Tories 'did not want' MP Craig Mackinlay as candidate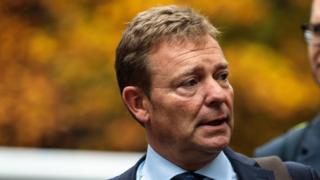 The Conservative Party's central office "never wanted" Craig Mackinlay to stand as its candidate in the 2015 general election, the MP's trial has heard.
South Thanet party chairwoman Lynne Connolly told Southwark Crown Court its HQ had wanted an all-woman shortlist.
Mr Mackinlay, his election agent Nathan Gray, and a party activist all deny involvement in making false spending returns during the campaign.
The MP won the seat from UKIP leader Nigel Farage after a "nasty" election.
Mrs Connolly described the atmosphere during the campaign - a contest against then-UKIP leader Nigel Farage - as "much nastier" than previous elections.
She said there had been some "very nasty incidents with UKIP people", and the constituency had become a "circus" during the campaign.
Mrs Connolly, who said she had rejected central office's request for only female candidates, told the court Mr Mackinlay would have been too busy to look at the election expenses, which under election law are limited.
She said party activist Marion Little was the expert and had assured her she would deal with them.
Mr Mackinlay, 52, from Ramsgate, Kent, faces two charges of making a false election expenses declaration.
Mr Gray, 29, from Hawkhurst, Kent, is charged with one count of making a false declaration and one of using a false instrument under the Forgery and Counterfeiting Act 1981.
Mrs Little, 63, from Ware, Hertfordshire, faces three counts of intentionally encouraging or assisting an offence under the Serious Crime Act 2007.
Mr Gray's counsel, Trevor Burke QC, had told the court on Tuesday that his client's signature had been forged on a form submitted as part of Mr Mackinlay's declaration of election spending.
But on Wednesday his then-line manager, Victoria Carslake told the court: "It's the first I've heard of such a thing."
The trial continues.