Four prisoners released by mistake in three weeks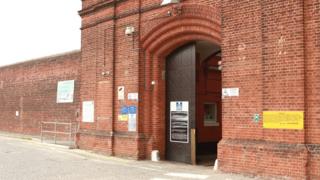 Four prisoners were released from jail by mistake across England in just three weeks, the BBC has discovered.
The inmates were released in error between 9 and 28 August from four different prisons - HMP Norwich, HMP Onley, HMP Styal and HMP Isis.
A Ministry of Justice spokeswoman said all of the prisoners had since been recaptured but did not reveal how long they were out for.
She said incidents such as this were "extremely rare".
However, in 2015 figures showed inmates were being released early by mistake at a rate of just under one every week in England and Wales.
Andrew Neilson, director of campaigns at the Howard League for Penal Reform, said: "This spate of incidents of prisoners being released in error is a further sign of the unsustainable strain on the prison system.
"Bold action to reduce the prison population is urgently needed to ease pressure on under-resourced jails and reduce risk to the public."
Figures from 2016-17 showed there had been a rise in prisoners released by mistake to 71 - the highest number in any year since current records began in 2006-07.
The Ministry of Justice spokeswoman said: "These incidents are extremely rare and these prisoners were all brought back into custody.
"These incidents are reported to the police and active measures are taken to recapture them quickly."