Gloucestershire council 'in crisis' as fourth director quits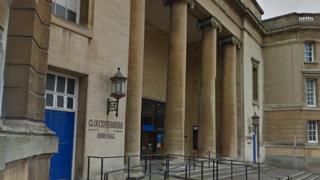 Leadership at Gloucestershire County Council has been described as being in "crisis" after the resignation of its fourth director in a year.
Strategic director for finance, Jo Walker has quit to become chief executive at North Somerset Council.
Lib-Dem opposition leader Paul Hodgkinson said her departure reflected a "crisis of leadership".
But the ruling Conservatives said Ms Walker's move endorsed "the high calibre of staff at the council".
So far this year, the head of children's services and director of communities and infrastructure have left, along with the chief fire officer, who resigned after the sale of an ex-fire service vehicle.
'Poor judgement'
Mr Hodgkinson said he had wished Ms Walker the best of luck, the Local Democracy Reporting Service said.
However, he said: "Amongst this personal good news, however, is the crisis of leadership currently facing Gloucestershire County Council.
"This latest departure means that four directors have left the council in the last year alone, with Jo taking more than 30 years of experience with her.
"The public will remember all-too-recently the Head of Children's Services being shown the door after letting down vulnerable children, followed by the Chief Fire Officer falling on his sword after displaying poor judgement with vehicle disposals and over the summer the director of the environment jumping ship to South Gloucestershire Council."
But Mark Hawthorne, leader of the county council, said: "Paul Hodgkinson is a bit confused again.
"Jo Walker's promotion to be the chief executive of a neighbouring council is a massive vote of confidence in Gloucestershire County Council.
"We're seen as one of the highest performing councils in the South West - which is why our senior officers are in such demand."