Ex-Crewe youth coach weeps in court at sex abuse trial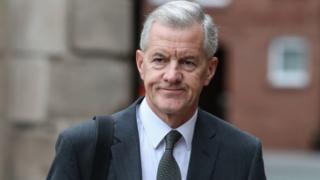 A former Crewe Alexandra youth coach has broken down in tears as he denied sexually abusing a teenage boy.
Paul McCann wept as he told a jury how when clearing his mother's house after her death, he found press cuttings detailing his appearances in court.
The 57-year-old said: "I knew she would see stuff... It upsets me because she passed away not knowing."
Mr McCann, of Great Sutton, Cheshire, denies four counts of indecent assault between the late 1980s and early 1990s.
At Chester Crown Court on Tuesday, the defendant told jurors he came across a brown envelope at his mother's home seven weeks earlier.
Inside it he found press cuttings detailing his appearances in court accused of grooming and sexually abusing his alleged victim.
Mr McCaan said: "I explained to my mother what was going on and reassured her."
Mark Ford, defending, asked Mr McCann how he reacted when police first put the allegations to him.
He replied: "Scared, angry, shocked, in denial. How could this be happening?"
Topless photo
He said he first met the alleged victim's family on holiday abroad and said he became a "surrogate father" to the boy, who had a difficult home life.
The married father-of-two is accused of regularly abusing the teenager, on a trip abroad, at his home in Crewe and after games at a local squash club.
The jury was shown a number of photos of the complainant, some of him without a shirt or in a bath, in various locations, including one at the defendant's home in Crewe in the 1990s, taken from behind with the boy topless and wearing shorts.
Owen Edwards, prosecuting, asked: "Who, other than you, could have taken that photo?"
"I don't know," Mr McCann replied.
Earlier the jury entered not guilty verdicts on two of the counts of indecent assault on the judge's direction.
The trial continues.