Zak Hardaker: Wigan Warriors player banned for drink-driving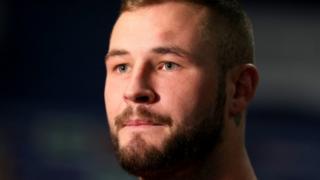 Rugby league player Zak Hardaker has been banned after admitting being more than twice the drink-drive limit.
Hardaker made an "amateurish attempt" to avoid police by driving down a cul-de-sac and running away in September, Leeds Magistrates' Court heard.
The 26-year-old was spotted driving erratically having drunk "two gins and six pints" and was arrested at his house in Pontefract, West Yorkshire.
The England and Wigan Warriors player was given a 20-month driving ban.
Hardaker, who is nearing the end of a 14-month playing ban for cocaine use, also received a £1,810 fine.
The court heard officers spotted him driving erratically just after midnight on 26 September.
Prosecutors told how Hardaker, who had been to a pub earlier in the evening, was seen leaving his Ford Fiesta via the driver's side and, along with a passenger, run away from the police.
Officers went to the rugby league player's home, where he initially denied he had been driving it at the time of the offence.
The court was told that, upon being taken to a police station, Hardaker "came to his senses" and admitted his offence.
Nick Hammond, defending, told how the conviction could have a "devastating effect" on the sportsman's career.
His bid to run away was a "very amateurish attempt to avoid the attentions of the police", he said.