UK terror attacks: Report examines 23 arrests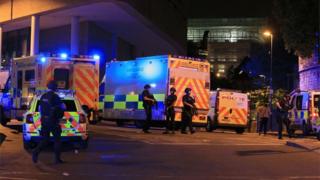 A woman who received compensation for her arrest over the Manchester Arena bombing was in the "wrong place at the wrong time", a report has revealed.
The woman, who lived next door to a "significant address", was one of 23 people held after the attack last May.
Police accepted her arrest was "collateral damage", Max Hill QC said.
His review of counter-terror laws also said the detention of 11 relatives of a London Bridge attacker was "difficult to justify".
However, there were "multiple considerations", he added.
In the annual report, the barrister revealed details of the 23 arrested as part of the inquiry into suicide bomber Salman Abedi's attack, which killed 22 people after an Ariana Grande concert.
They include two people who were held in excess of thirteen days after police found they had telephone contact with Abedi on the same day.
One "was suspected to have been involved in his plans as he was also located close to the Manchester Arena" and the other was "suspected to be in the area in which the chemicals were purchased at relevant times."
Mr Hill said the 35-year-old woman who was compensated was living next door to a "significant address" but was "not involved nor had any knowledge of the activities there".
"I understand that she has received compensation following the arrest, because the police accepted the arrest was in effect collateral damage: she was at the wrong place, at the wrong time," he wrote.
He added it was "important to avoid" what she experienced and this has "been accepted as a learning outcome" police in future.
What does the report say?
The wide-ranging report, which can be read in full online, reviews UK counter-terrorism legislation for its fairness, effectiveness and proportionality
It said Daesh [an alternative name for Islamic State] continues to represent the most significant terrorist threat, but noted the increase in police awareness of extreme far-right activity
It questioned whether new laws will solve the problem of terror content and plotting on social media and warned that driving material into "underground spaces" could prove counter-productive
It also predicted that a "modest expansion" on the use of Terrorism Prevention and Investigation Measures (TPIMs) could be on the cards in the near future
And it gave details of arrests following the London Bridge attack and the Manchester Arena bombing
Mr Hill also said that a family member of one of the London Bridge attackers, Khuram Butt, had called police to alert them about Butt's possible involvement.
Butt, Rachid Redouane and Youssef Zaghba killed eight people and injured 48 others in an attack at London Bridge on 3 June last year.
He said 11 relatives - six women and five men, aged 19 to 60 - were held for up to 36 hours before being released without charge.
Mr Hill said: "It must be remembered that any arrest requires reasonable grounds to suspect in relation to an individual, rather than a general scenario presented to officers on entry to premises.
"It is, therefore, difficult to justify the arrests of 11 individuals at the same premises on the first day of this investigation".
He added: "But there were multiple considerations here, including the unknown risk of a further attack in the aftermath of London Bridge, the question of whether any of those arrested may have had prior knowledge of the principal attack, and the extent of communication between individuals during the early hours immediately after the attack."