South Western Railway workers confirm further walkouts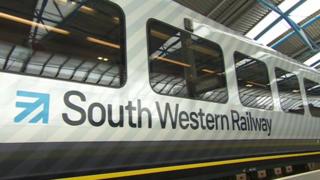 Staff on South Western Railway (SWR) are set to stage further walkouts in a long-running dispute over the role of guards on trains.
Rail union RMT said the next strike would run from 00:01 BST on 23 October until 23:59 on 27 October, followed by further walkouts on consecutive Saturdays until 24 November.
It said SWR had "stalled" the talks process and failed to provide an offer.
The rail company accused the union of "needlessly disrupting" customers.
The RMT, which has been involved in a two-year dispute with several rail firms over the issue, has held eight walkouts on SWR, including last weekend, and is calling for a guarantee that guards will remain on trains and a halt to the "rolling out of driver-only operation".
Mick Cash, RMT general secretary, said: "South Western Railway has stalled the talks process and has failed to provide any sort of offer that comes close to resolving this dispute which matches the widespread best practice in the industry, underpinned by the guard guarantee."
An SWR spokesman said: "The union has cynically chosen dates with the aim of targeting hard-working commuters, families enjoying the half-term holiday and sports fans, to cause as much misery as possible.
"We will be doing everything we can to minimise this disruption.
"Our plans mean more guards, not fewer, and we have guaranteed a guard with safety critical competencies to be rostered on all of our services."
RMT staff on Northern also staged a strike on Saturday as part of the same dispute. Walkouts are also planned on Northern on 13 and 20 October.