World Mental Health Day: 'How running has helped me'
By Jennifer Meierhans & Stephanie Barnard
BBC News Online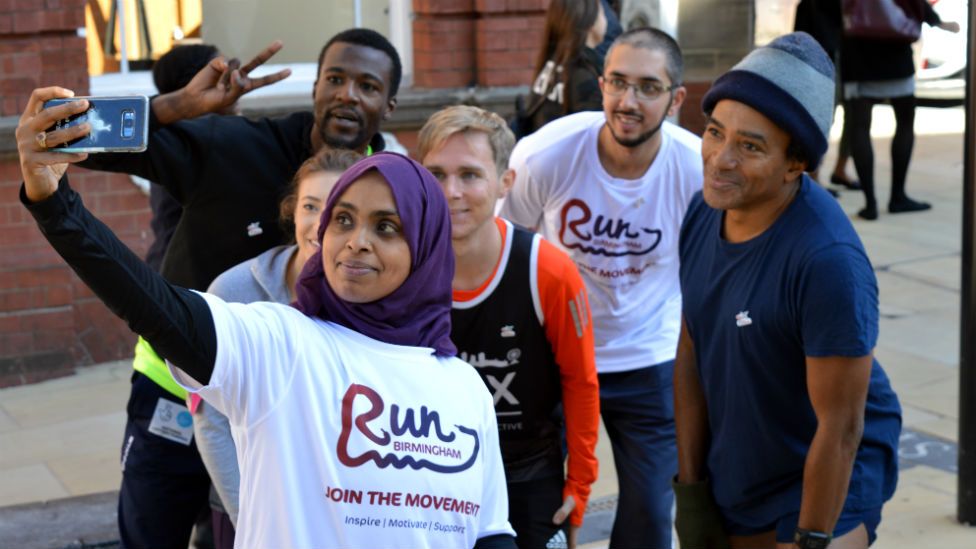 As well as its benefits to physical fitness, for many people running is about mental wellbeing too.
During World Mental Health Week, England Athletics is working to inspire non-runners to dig out their trainers and get moving.
We joined lunchtime runners at a #RunAndTalk session in Birmingham to hear how it has changed their lives.
Shah Begeum, 39, is a paralegal at a law firm in Birmingham and started running by joining a Couch to 5K group.
"I went through mental health issues when my marriage broke down. I was seven stone heavier then and I felt like I had no direction or focus," she said.
"My mental health stemmed from my physical health, which then made my mental health worse. It was a cycle.
"Running has just completely changed all that. It's given me something to do, a reason to get away from my desk every Tuesday lunchtime.
"My first run lasted just 30 seconds but I thought to myself 'I'm going to do it' and now I've done a marathon.
"I have breaks from running because life gets busy with family and work pressures and I definitely feel the impact on my mental health."
Andrew Tipton, 25, who works in a bookmakers, said running helped him get his life back on track.
"I was going through a stressful time at work.
"I was semi-homeless, living with friends, sofa surfing and running has definitely helped during the last six to nine months.
"I run to relive stress and it's definitely played a part in getting me back to a good place. It's good to come out on your lunch break. I've met a load of new people through this.
"It's great to get some sun and exercise."
Jennifer Meierhans on the #RunAndTalk
For me, the hardest part of running is getting my trainers on and leaving the house.
As we chatted while stretching out in the park everyone said they felt the same struggle.
I worried that I wouldn't be able to keep up, but the point of a run and talk is to stay at a pace where everyone can speak comfortably.
So I spent my lunch hour having a leisurely trot along the Birmingham canal and getting to know some lovely people.
They wait for one another, talk about their lives and they are each other's motivation to leave the office.
It's a great opportunity to get yourself, and anything on your mind, out in the open.
Thomas Glave splits his time between Birmingham and New York, where he works as a professor of English and creative writing.
"I am not suffering from depression but I know some friends who get depressed and running has helped them a lot," he said.
"It demands so much from you. I used to be a smoker, I quit because of running. I did a half marathon when I was still smoking and after that I gave up.
"Just that accomplishment made me see what's really possible. It's very inspiring. It made me feel that I was no longer addicted to a substance I didn't need and I could do whatever I liked.
"I didn't depend on cigarettes for that feeling, I get that from running instead.
"I spend a lot of time alone writing and running helps with that too. So I always say 'Well I ran, I did this very difficult thing, so now I can come back and do this other very difficult thing'."
Junaid Riaz, a 27-year-old barista, started running in 2015 when his friend bet him he couldn't do a half marathon.
"I'd never had any mental health issues before that but I have been stressed at times due to exams and work pressures.
"Running has helped in a sense that it's a release. I've met some brilliant people through it.
"Each and everyone of them has their own individual story to do with mental and physical health.
"It's encouraged me to join a running club. I've gone from not really engaging in much exercise to doing a half marathon, full marathon, several 10Ks and now I represent my club at regional competitions."
Related Internet Links
The BBC is not responsible for the content of external sites.