North's elected mayors call for post-EU spending powers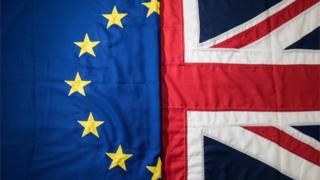 Elected mayors in the North of England want devolved powers to spend a share of the money which will replace £2.4bn per year of EU funding from 2020.
The mayors said controlling funds to tackle regional inequality from London amounted to a "Whitehall power grab".
The Conservative Party pledged last year to replace economic aid which the EU has paid since 2000 with a new fund.
Full details of the fund will be announced after a spending review and public consultation next year.
They mayors urged the government to commit to at least matching the £2.4bn sum to tackle the UK's pay and employment inequality.
In July, the Ministry of Housing, Communities & Local Government (MHCLG) set out plans for a UK Shared Prosperity Fund (UKSPF) to replace EU Structural Funds following Brexit in March 2019.
Driving investment
In a joint statement, the mayors of Greater Manchester, Liverpool City Region, Tees Valley and Sheffield City Region, and the Northern Powerhouse Partnership said devolved spending powers for UKSPF money would allow them to target funds where they were needed the most.
Liverpool City Region Mayor Steve Rotheram said: "It's vital that the UKSPF is not held in Whitehall, but devolved to metro mayors so that we can drive investment to create good quality local jobs and help grow local businesses."
The mayors pointed out that four of the UK's 10 most deprived boroughs - Blackburn with Darwen, Liverpool, Middlesbrough and Rochdale - fell within the Northern Powerhouse area made up of 11 local enterprise partnerships.
The mayors' calls for devolved power were backed by social research charity the Joseph Rowntree Foundation (JRF), which said many parts of the UK had been "locked out" of the UK's economic success in recent years.
In a new report, JRF identified 12 towns as being at risk of falling further behind more prosperous parts of the UK on wages and employment: Birmingham, Blackburn with Darwen, Blackpool, Coventry, Luton, Nottingham, Rochdale, Rotherham, Sandwell, Swansea, Tameside, and Wolverhampton.
An MHCLG spokesman said: "We are continuing to engage mayors and mayoral combined authorities to ensure certainty of funding ahead of a public consultation later this year."