Northern Railway workers strike in guard dispute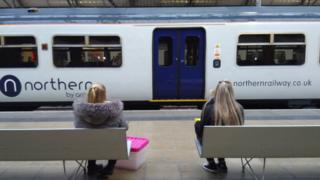 A long-running dispute over train guards has led to further rail strikes.
Talks between the RMT union and Northern collapsed, meaning only about 30% of Northern's services will run on Saturday, with more strikes planned for 13 and 20 October.
The strikes are expected to affect people attending the Liverpool Giants street theatre festival, which is set to draw a crowd of thousands.
South Western Railway union members began a 48-hour strike on Friday.
Northern said "very few trains" would be running throughout Saturday, with no services at all on some routes.
It warned that trains would be "extremely busy".
The firm advised passengers to "plan their travel carefully" and for those visiting Liverpool particularly to seek alternative means of travel where possible.
Northern remained "ready to talk" to unions, it said.
Passengers have taken to Twitter to express their frustration, with one saying they were "stranded at Preston station for an hour waiting on a 2 & a 1/2 hour connecting bus to Manchester".
Another pointed out the inconvenience to travellers.
Some people complaining on social media about the lack of trains appeared not to realise there was a strike.
Others showed support for the union's position.
The RMT is demanding guarantees that guards will remain on trains and that the roll-out of "driver-only operation" is stopped.
General Secretary Mick Cash claimed Northern had shown a "pig-headed attitude" during talks at the conciliation service ACAS.
Northern's deputy managing director Richard Allan said the RMT "unilaterally changed the basis of what they were prepared to talk about".
The strike action would "only cause further unnecessary difficulty for customers", he said.