'County lines' drug dealer who trafficked children jailed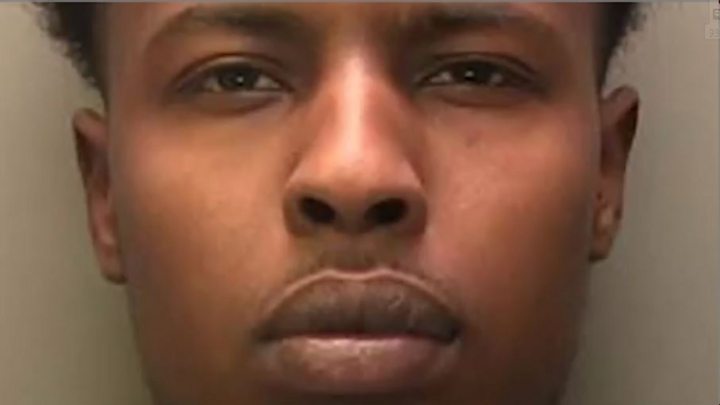 A drug dealer who trafficked teenagers to sell heroin and crack cocaine through his "county lines" narcotics network has been jailed for 14 years.
Zakaria Mohammed, 21, groomed them before transporting them from Birmingham to rural Lincolnshire.
West Midlands Police said it was the first time a drug dealer had been convicted, under the Modern Slavery Act, of trafficking children.
He admitted conspiracy to supply class A drugs and trafficking charges.
Police said Mohammed, from Aston in Birmingham, was "cynical, deliberate and ruthless" in befriending young and vulnerable children, aged 14 and 15 at the time, to use as a commodity to further his drug-dealing business.
Children, who had previously been reported as missing to the force, were found inside three flats in Lincoln when police conducted raids and recovered money, drugs and weapons.
At least one flat was described as "unsanitary", littered with drug paraphernalia, with no heating or food, despite police believing Mohammed was making as much as £500 a day.
Although it is believed that as many as 10 children were involved, Mohammed was prosecuted for trafficking two boys who were found in a flat and a girl he bought a train ticket to Lincoln for.
Passing sentence at Birmingham Crown Court, Judge Nicholas Webb said: "The fact is the children were being taken away for days or weeks, exposed to potential danger in a squalid environment."
Mohammed had a "significant" role which he was carrying out in order to pay off a drugs debt.
"Your contribution was to exploit their vulnerability," the judge said.
Officers launched an investigation with Lincolnshire Police after two 15-year-old boys who were reported missing from their Birmingham homes were found in a flat in Yarborough Road, on 25 January.
Subsequent surveillance identified a Seat Leon registered in Mohammed's name making regular trips from Birmingham, often with teenagers, to an address in Lincoln, police said.
He was stopped in his vehicle by police in February, which led officers to finding a phone to run the drugs line, called "Castro", which contained more than 100 customer contacts. The car also had school uniform trousers, a white shirt and school tie inside it belonging to a missing child from Birmingham.
Forensic tests on two soft drinks in the vehicle gave a DNA match to two other 15-year-old boys who had been reported missing from the city.
With his car impounded, Mohammed was later seen taking taxis with children to Lincoln and filmed on CCTV at Birmingham's New Street station in March buying train tickets for a boy and a girl.
Lincolnshire Police filmed children passing on the drugs to customers, with some transactions occurring as regularly as every 10 or 15 minutes.
Analysis
By Sima Kotecha, Midlands correspondent
West Midlands Police is happy to publicise this case as the force believes it's been triumphant in bringing Mohammed to justice.
However, charities have told BBC News this type of trafficking is going on much more than we might think and the authorities need to be "sharper" in finding those responsible.
Children involved are vulnerable and scared and it's very unlikely that they'll go to the authorities themselves, placing more responsibility on the intelligence services and police to rescue them.
This landmark case highlights how behind closed doors, even in the 21st Century, children are being exploited and treated like slaves, and even once they're found, the mental scarring of the nightmare they lived is unlikely to ever fade.
The children in this case were never prosecuted for dealing drugs, instead they were seen as victims of grooming who were promised the world - and given squalor instead.
Mohammed was eventually arrested while driving in Lincoln.
Police said he was "a very busy man, living the life of a travelling salesman, sleeping in service stations and out on the road for many hours each day taking drugs and phones to children".
Supt Richard Agar said: "He befriended these children... with one end in mind and that was [to] exploit them.
"He didn't see them as individuals. He saw them as a commodity. He didn't recognise their humanity."
The phrase "county lines" refers to the phone line used by inner-city gangs to either set up and run, or take over drug-dealing businesses in smaller towns and cities.
Mohammed previously admitted four counts of conspiracy to supply heroin and crack cocaine and five counts of arranging or facilitating the travel of another person with a view to exploitation.