Former UKIP leadership candidate Bill Etheridge resigns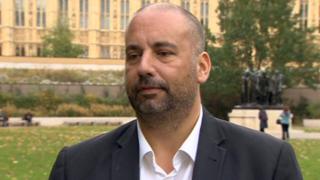 A former UKIP leadership candidate has left the party and branded it a "vehicle of hate towards Muslims and the gay community".
In a resignation letter, West Midlands MEP Bill Etheridge said changes made since current leader Gerard Batten took over have "changed the party beyond all recognition".
Mr Etheridge, who will remain an MEP, stood for UKIP's leadership in 2016.
Mr Batten called on Mr Etheridge to resign his seat and return it to UKIP.
Mr Etheridge, who has been an MEP since 2014, said he will remain part of the Europe of Freedom and Direct Democracy Group in the European Parliament, of which Nigel Farage is president.
In the letter to Mr Batten, he said he joined the party in 2011 as a "patriotic, freedom loving alternative to the British people".
Latest news from the West Midlands
Mr Etheridge added: "The changes you have made have changed the party beyond recognition.
"The party is now seen by large swathes of the British public as a vehicle of hate towards Muslims and the gay community...
"For my part I wish UKIP well and leave with great sadness that the party I loved has left me and taken a different direction."
Mr Batten said this year's party conference had shown members were behind him, adding: "I hope that Mr Etheridge will do the decent and honourable thing and resign his seat, thereby handing it back to UKIP to which it morally belongs.
"I am sure the loss of his salary, daily allowance, and pension rights would be a small price to pay for a man of principle such as he."