Huddersfield grooming victims 'delivered to hell'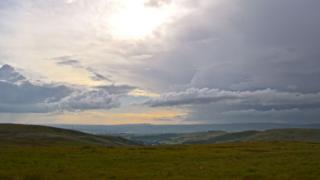 Twenty men sexually abused girls as young as 11 as part of a grooming ring that targeted more than a dozen girls in Huddersfield. Intoxicated with drink and drugs, the children were raped repeatedly and often driven to isolated areas and left to fend for themselves.
The desolate swathes of Saddleworth Moor have long held a place in history as a scene of innocence lost, having been used as a burial ground by Ian Brady and Myra Hindley to hide the horrors of their crimes.
But this vast landscape, straddling Greater Manchester and West Yorkshire, was also a dumping ground for a string of vulnerable girls who fell victim to a large-scale grooming gang.
It was on those hills - two miles from the nearest village - that these children would turn up at a remote farm belonging to Christopher Crowther.
"It was a cold, wet night when they knocked. I opened the door and two or three girls, aged 14 or 15, were crying and didn't have a clue where they were.
"I asked them what had happened and they said they had been thrown out of a car; they wouldn't tell me any more."
For one victim, her only means of escape was to jump in front of an oncoming vehicle and beg for help.
She had been abandoned on the bleak moorland by Mohammed Ibrar for refusing to carry out a sex act on him.
Incensed, he beat her up and threw her out of his car - a harrowing ordeal that left her bloodied and battered.
"He just kept punching me and punching me. There was blood everywhere and it felt like my nose was broken," she told jurors of the man she knew, fittingly, as "Bully".
"He wanted me to give him what he wanted, whenever he wanted it, no matter what it was."
Mr Crowther recalls how the teenagers who appeared on his doorstep in the years the abuse happened were cold, dishevelled and in tears.
His priority was to get the girls home safely, and although he did not report what had happened to police, the youngsters' behaviour made him suspect it had to do with older men.
"They were just in T-shirts and jeans, certainly not dressed to be out in the remote hills on a wet, dark night," he said.
"It was upsetting to see. They were extremely vulnerable and seemed confused with drink or drugs. They were just sobbing, asking for help.
"Whoever threw them out of that car didn't care for them in the slightest."
He described how on one occasion one of the girls was "very, very roughed up". After ringing one of their mothers who "didn't know where her daughter was", he and his daughter drove them back home to Huddersfield.
If the story sounds familiar, it's because it is: a replay of the sad tales from convictions in Rotherham, Rochdale and Telford - among several other places - where underage white girls were groomed by older men, who said they loved them.
These predators were often years older than their prey and the girls were repeatedly passed around and raped.
In Huddersfield, many of the Asian gang members lived and carried out the abuse in areas stretching from the edge of Manchester Road - a main road through the town - up into the suburbs of Thornton Lodge and Crosland Moor.
In total, 15 girls were groomed - one was in care, another had learning difficulties - and they were often picked up in their school uniforms.
They were driven around in cars and given presents as their groomers built a fake relationship to satisfy their perversions.
'Nobody asked me any questions'
The history of a child abuse scandal
One mother described how she found teddy bears, heart-shaped chocolates and bottles of perfume hidden in her daughter's bedroom.
But there was nothing romantic about the scenes of the crimes; just dingy flats, seedy takeaways, alleyways near railway tracks and snooker club car parks.
At house parties, drink and drugs were in plentiful supply - time after time, the court heard how the girls were plied with whisky, vodka, cannabis or ecstasy and, once incoherent, they were taken into a room where men would follow.
Sometimes no contraception was used, sometimes plastic bags were used as condoms. The court heard that some victims became pregnant, and one girl had a termination.
It was common for the abuse to take place after the men "dared" each other, or when the rest were watching or filming it on their phones.
Raj Singh Barsran raped a girl after she was "knocked out" by drink. Before that she was subjected to other "sickening acts" which had been filmed by the gang ringleader Amere Singh Dhaliwal .
But because the girls were so corrupted by the men, they viewed the behaviour as normal. Parents described how their daughters became "secretive" and would regularly go missing.
One mother told how her 14-year-old would come home covered in bruises and bites and regularly skipped school.
Parents - who were sometimes themselves being threatened by the men - recounted being helpless at keeping their daughters safe and phoning hospitals and the police when they disappeared for hours on end.
"I was always asking her where she had been but I never got a straight answer," said one mother.
"We got her a phone in the hope we could keep in touch to make sure she was safe but repeatedly the phones would get lost or taken off her."
Although the parents felt unable to protect their daughters, there were opportunities for the authorities to step in and help.
But the cycle of abuse and exploitation continued.
The girl who was attacked and abandoned on the moors by Ibrar reported it to West Yorkshire Police at the time, but prosecutor Richard Wright said despite her visible injuries nothing was done.
"It's incredible that no action was taken, it's disgraceful," he said.
Many other chances to intervene were described in court.
Injured girls turned up at hospitals, officers were called to house parties and police stopped cars in which the teenagers, in their school uniforms, were being ferried around by the men.
The victims and their families said they tried to get help but the authorities "did not want to know".
One mother, so desperate to release her daughter from the clutches of the gang, wrote to the prime minister after being rebuffed by social services who said her daughter "was not a risk".
She told jurors how she would lie awake on a night worrying her daughter was dead and when she had not come home she would ring the police.
Another victim said: "The police never helped us. We'd get dropped at a hospital and we'd get left there. They just wouldn't listen to us."
Huddersfield MP Barry Sherman raised the issue in Parliament in 2009 after he had been made aware of the issue of child sexual exploitation in the town.
In that speech, he said that his particular worry was that he did not think West Yorkshire Police took the matter as seriously as other forces.
Nazir Afzal, former chief prosecutor for the north-west of England, initiated the prosecution of grooming gangs in Rochdale and said there was a clear pattern of behaviour with street grooming and the authorities needed to do more.
"These men offer the girls the earth and then deliver them to hell.
"[The men] feel able to do this to white girls because they can, because somehow the authorities allow this to happen.
"If the authorities were acting upon the information they had, then these girls would not be put in danger."
Although this particular gang has been jailed for its "vile and wicked" actions, echoes of their behaviour still linger.
About two years ago, Mr Crowther saw another distressed girl roaming near his home.
"I asked if she was OK and if she wanted a lift. She said there was no way she was getting in another car because she'd just been thrown out of one and she would walk to the bus stop."
He said he regularly sees cars being driven by Asian men pulling into lay-bys late at night and has relayed this to Greater Manchester Police.
Suspecting the cycle continues, he said: "I've told them, but nothing happens."
The force said no concerns had been formally reported to the police and urged anyone with suspicions to contact them.