Tommy Robinson: Ex-EDL chief appears at Old Bailey for contempt case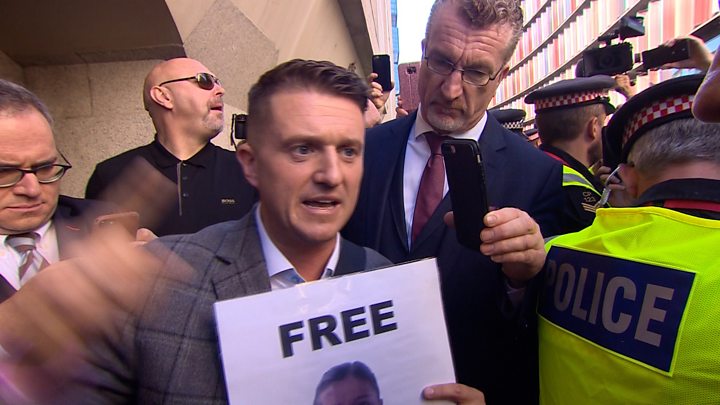 Former English Defence League leader Tommy Robinson has appeared in court over a contempt of court allegation.
Hundreds of supporters and opponents of the right-wing activist gathered outside the Old Bailey on Thursday.
Robinson, 35, is alleged to have committed contempt by filming people in a criminal trial and broadcasting footage on social media.
The case was adjourned until October. Robinson claimed the authorities "want me in prison for Christmas".
Recorder of London Judge Nicholas Hilliard QC said he would receive written submissions before making a ruling on how the substantive hearing will take place.
Robinson, from Luton, was referred to by his real name Stephen Yaxley-Lennon throughout the brief hearing.
He was released from prison last month after three leading judges quashed a finding made at Leeds Crown Court in May, and granted him conditional bail from a 13-month jail sentence.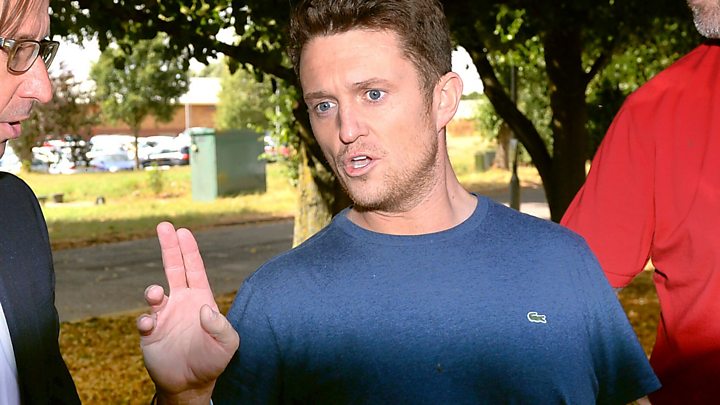 Robinson could face being sent back to jail if he is found to have been in contempt, with a maximum sentence of two years' imprisonment.
He was sentenced in May to 10 months for contempt of court and a further three months for breaching a previous suspended sentence.
In May 2017, Robinson faced contempt proceedings over footage he filmed during the trial of four men who were later convicted of gang-raping a teenage girl.
A judge at Canterbury Crown Court gave him a three-month suspended sentence.
Robinson appealed against both contempt findings at a hearing last month overseen by Lord Chief Justice Lord Burnett, Mr Justice Turner and Mrs Justice McGowan.
They found the judge in Leeds should not have commenced contempt proceedings that day and ordered the case reheard so that the allegations could be fully examined.
Speaking outside the Old Bailey earlier, Robinson criticised delays in the case, saying: "I believe they want me in prison for Christmas."
Correction 2nd October 2018: An earlier version of this article incorrectly stated that Tommy Robinson had admitted contempt of court at Leeds Crown Court in May and that sentence has been amended.