Banks closures: 13 million people have lost half of local branches
By David Rhodes
BBC News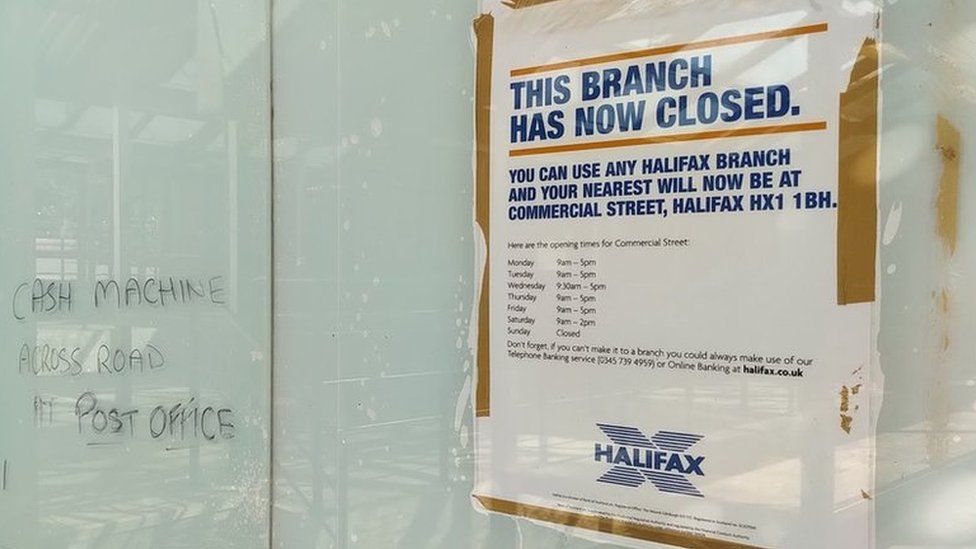 About 13 million adults in the UK live in areas where at least half of the local banks and building societies have closed, analysis by the BBC reveals.
The consumer group Which? called the number of closures "alarming".
Trade association UK Finance said closing a branch was a last resort when usage falls.
Banks and building societies have been closing as services have moved online and fewer people visit branches.
The breakdown of ONS figures shows that 133 out of 650 parliamentary constituencies across the UK have seen the number of branches fall by at least half since 2010.
Figures from Link, a cash machine network, also show that between January and August of this year 1,400 free to use cash machines closed across Great Britain.
It's ripped the heart out of the town
Sowerby Bridge in West Yorkshire had six banks a decade ago but the last one, a branch of Halifax, closed in July.
"Bank closures have just ripped the heart out of the town" said Karen Doyle who runs a bakery on the main street.
"For 40 years the cashiers and managers used to come in at lunchtime, and you'd get to know them and it fostered a feeling of community but that's all gone now.
"What really annoys me, is that as taxpayers we bailed the banks out when they were in trouble and now they've left places like Sowerby Bridge behind," said Mrs Doyle.
Residents have to make what can be an hour-long round trip into Halifax to access banking services.
"It used to be a 10-minute job, taking the weekend's cash into the bank, but it can now take most of the morning," said pub landlord Dan Shackleton.
"With every bank closure we've lost another cash machine as well.
"This is a tourist town and and I've lost count of the number of times that our three cash machines have run out."
The closure of bank branches and building societies has also contributed to the loss of over 1,400 free to use cash machines in the first eight months of 2018.
There are 63 constituencies with fewer than five ATMs per 10,000 people.
The constituency of Sheffield Hallam in South Yorkshire had just two free to use cash machines per 10,000 local residents, the lowest rate in the country.
Billie Cockerill works in a fish and chip shop in the constituency. "Its noticeable that there are fewer cash machines nearby but people's habits are also changing.
"I'd say in the last year I've been really surprised by the the number of people coming in and wanting to pay by card.
"We've been running this shop for over 20 years and in the next couple months we're getting our first card machine because people are just carrying less cash".
You may also be interested in:
Major city centres such as Glasgow, Cardiff, Birmingham, Manchester and Leeds have more than 15 machines per 10,000 residents, with more than 60 per 10,000 in the centre of London.
Greater use of contactless card payments, extra regulatory costs and more people choosing to use online banking services are all reasons why local bank branches and cash machines have disappeared from local high streets.
You may also be interested in:
Some experts though have been left concerned by the large drop in the number of banks and cash machines in small geographical areas.
"There are many people still reliant on traditional banking services who are at risk being financially excluded by this alarming rate of branch closures" said Gareth Shaw from consumer group Which?
"While banks should ensure there are alternative banking facilities in the area, we're told by consumers that these options simply do not offer the full range of services or convenience that a dedicated branch does."
A UK Finance spokesman said: "Bank branches play an important role in local communities which is why decisions to close them are only ever taken after all other options, like reducing opening hours and staff numbers, have been exhausted."
Bank branch visits have fallen by a quarter since 2012 as people do more banking online from home and on their phones, the spokesman added, but promised investment in "ATMs and mobile bank branches to reach out to more communities" would continue.
Maps by Daniel Wainwright
Related Internet Links
The BBC is not responsible for the content of external sites.