Coleshill freight train derailment work extends through weekend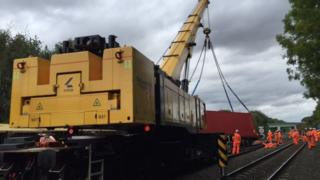 Train travel disruption is continuing after a freight train derailed.
Normal service will now not be resumed between Birmingham New Street and Nuneaton until Monday, National Rail said. It had been hoped the line would be open this evening.
The derailment saw a number of wagons overturn and block the line between Coleshill Parkway and Nuneaton, British Transport Police (BTP) said.
Passengers have been advised to check train schedules before they travel.
BTP said the derailment took place on Wednesday at about 15:00 BST.
Officials have been working to retrieve the derailed wagons and said they have been making "progress".
In a statement released on Friday, National Rail said: "Network Rail engineers are working around the clock to recover the train and repair any damage to the infrastructure.
"The railway is expected to remain closed all weekend, whilst repairs to the track and signalling equipment take place.
"We anticipate disruption will continue until the end of service on Sunday 16 September."
Due to the derailment, trains continue to be unable run between Birmingham New Street and Nuneaton while trains between Leicester and Birmingham New Street will travel via Loughborough.
To tackle the disruption, rail replacement buses have been set up to run between Birmingham International and Nuneaton and will call at Coleshill Parkway, National Rail added.