Coastal Communities: £6m government funding for seaside schemes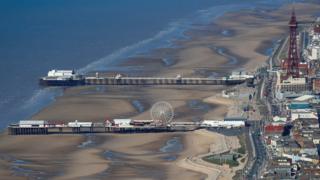 A scheme to improve access to the coast for people with disabilities is one of 16 projects linked to the seaside in England set to receive a share of £6m.
A grant of almost £1m is to be provided for Access Fylde Coast in Lancashire under the Coastal Communities Fund.
Other projects chosen include a South Shields community arts project, heritage boat tours in Cornwall and a creative industries scheme in Margate.
The government said the projects would create more than 1,100 new jobs.
The Lancashire scheme will include training to help local businesses to support people with disabilities, organising new events and creating trained volunteer access guides.
Two projects in St Austell will receive almost £2m in total.
Kneehigh Theatre Trust will receive £803,236 towards a £1.3m project to provide training and development for people in the cultural and tourism sectors.
The investment will also be put towards two contemporary culture festivals and technology for new digital experiences.
A separate pot of almost £1.1m will be used to transform the town with public realm works, cultural schemes and events which aims to attract more visitors and extend the tourist season.
In Kent, a grant of almost £500,000 will help to set up a fabrication laboratory in Margate.
These are workshops which allow people to test out new designs and ideas, and build products and new technology using a range of cutting-edge tools
The 16 schemes have been selected before the main round of funding from the Coastal Communities Fund becomes available in April.
The full list of projects getting grants is:
Almost £1.1m for public realm works and cultural initiatives in St Austell, Cornwall
£985,522 to improve the visitor experience for disabled visitors to the Fylde, Blackpool and Wyre coasts in Lancashire
£896,568 to support residents into apprenticeships and jobs in the construction industry in Scarborough
£803,236 towards plans to train new workers and support culture festivals in St Austell, Cornwall
£499,100 towards a Fabrication Laboratory, a workshop providing technical training and support for local creative businesses in Margate, Kent
£414,763 towards a new Suffolk Archives and Heritage Centre in Ipswich
£304,000 to promote new visitor opportunities and extend the season in Berwick, Northumberland
£258,526 to create a volunteer network on the Jurassic Coast in Devon
£170,000 to promote West Sussex as a hub for water sports
£110,000 as part of a project to introduce heritage boat tours of Falmouth's docks in Cornwall
£98,077 to make Deal in Kent a cycle-friendly town
£71,000 for nature tourism for the Lancashire Wildlife Trust
£61,390 to turn St Hilda's Pit Head in South Shields to a base for a community arts project
£60,000 towards the creation of an events centre on the Isle of Wight
£53,000 towards a scheme to extend the visitor season in Beer, Devon
£53,000 to support measures to increase yacht visits between Brittany and Devon