Oldest person in the UK: How has life changed?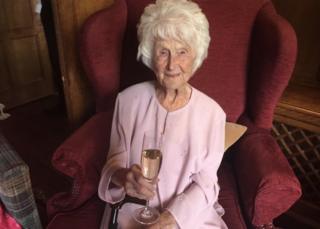 This year's birthday will be a little more special than normal for one woman. Not only is she expecting yet another card from the Queen but it is the first time she will blow out her candles as the UK's oldest living person.
Born on 16 September 1906, Grace Jones of Broadway in Worcestershire has not only experienced the reign of five monarchs and 21 prime ministers, but is older than the invention of the perm, was three when Heinz cream of tomato soup was introduced to Britain and was the grand old age of 21 when the first "talkie", The Jazz Singer, was released.
She has seen the outbreak and resolution of two world wars, and lived through the Russian Revolution, the sinking of the Titanic, and all three London Olympics.
So how has day-to-day life changed since Mrs Jones came into the world?
What's in a name?
Mrs Jones is not the first Grace, nor even the first Grace Jones to hold the title of oldest person in the UK - she shares her name with a former holder of the record, who died aged 113 in 2013.
In 1906, Grace was one of the most popular names for girls - Margaret was the most popular - and remained in the top 50 until 1925. It then faded from use until the mid-1990s before peaking again in 2005.
Gladys, Doris, Hilda and Ethel were all in the top 20 in 1906 but they have all, at some point, all but disappeared since 1996.
The name with an equivalent pattern for boys is Jack. In 1906 the top name for boys was William, and although none of 1906's top 20 names have disappeared, Harold, Reginald and Walter are among the least popular at the moment.
Lust for life
When she was born, Mrs Jones could have been expected to live until the age of 54. Men had the lower life expectancy of 48.
According to the Office for National Statistics, a boy born today is likely to live until he is 79 and a girl until she is 83.
In 1906 the most common cause of death was due to infections such as tuberculosis and bronchopneumonia. But the discovery of antibiotics in 1929 and their wider introduction in the early 1940s meant that dangerous illnesses became curable.
By 1945, motor vehicle crashes began to emerge as the leading cause of death in both young males and females, a figure exacerbated by the Blackout during World War Two, when vehicles drove in total darkness.
The proportion of motor vehicle deaths dropped in 1985, which could have been down to the introduction of compulsory seat belts two years earlier.
Now, the most common causes of death are cancer and heart-related disease.
Food for thought
Mrs Jones was born in Liverpool. A 1909 study now held at the British Library shows a typical daily menu - breakfast, dinner, tea, supper - for an ordinary family in the city.
Breakfast would consist of bread, margarine and fish; Sunday lunch would be rabbit, potatoes, vegetables and rice pudding, and the meal for the rest of the week would decrease as the rabbit was used up in stews or soups until Saturday, when only potatoes remained.
Tea would be bread, margarine, marmalade and a cup of tea, while supper (if eaten) would be either bread or porridge with milk.
By the 1920s, tinned food was growing in availability; the 1930s saw a "milk for schools" scheme, and the 1940s cook had to deal with rationing. The 1940s and 70s saw a surge in the popularity of curries.
Mrs Jones says her favourite meal was always roast beef with Yorkshire pudding and vegetables. The origins of the Sunday roast are much older than the centenarian, and could date as far back as medieval times.
That's entertainment
Music hall, one of the most popular forms of entertainment, hit a crisis in January 1907 when Mrs Jones was about four months old.
It arose from the fact that many performers were annoyed at exclusivity clauses employed by theatres. The clause meant artists could not appear at multiple venues on the same day, which limited the amount of money they could earn.
Artists, musicians and stagehands went on strike across the country, organised by the Variety Artistes' Federation, which had been formed in 1906.
Mrs Jones's daughter Deidre, now 80, became a singer on cruise ships and theatres. Mrs Jones says she enjoyed watching the performances, which featured artists such as Cheerful Charlie Chester, David Whitfield, Ken Platt and duo Pearl Carr and Teddy Johnson.
She also enjoyed watching the 1950s ballroom TV programme Come Dancing - and now says her favourite entertainment is Strictly Come Dancing.
Fashion
Mrs Jones was a milliner before she married her husband Leonard in 1933. Mr Jones - who died in 1985 - told her to give up work, which she did, but she says she continued to enjoy dressing stylishly and still gets her hair done weekly at the retirement home where she lives. She says she has kept five wardrobes full of clothes.
According to archives at the V&A Museum, when Mrs Jones was born, middle and upper-class women would wear corsets, puffed frilly blouses and broad-brim hats. Ladies would wear their hair in a centre parting and - in a trend that has come full circle - would sometimes incorporate false hair to create a more impressive hairline.
Men wore three-piece suits with bowler or cloth caps. Jackets were narrow with small, high lapels. Some men wore their collars turned down, with rounded edges and modern knotted ties, and beards tended to be reserved for mainly older men, while most young men sported neat moustaches and short hair.
Advertising space
The most popular adverts of all time - as voted by the British public - include Cadbury's gorilla playing the drums, Martians enjoying some Smash, and JR Hartley tracking down a copy of Fly Fishing via the Yellow Pages.
A judgemental question about one's taste in vinegar did not make the top 10, but in 1906 "the girl in the white cap" urged the modern British housewife always to ask the grocer for Heinz.
Those who failed to do so ran the risk of giving their family "a harsh, crude product possibly more or less adulterated and dangerous".
Mrs Jones, whose daughter is organising a party to mark her 112th birthday, knows exactly how the day will end.
"I always have a little drop of whisky and water in bed at night," she says. "Just a drop, and that's all, but I never miss it."