More compensation for delay-hit Northern rail passengers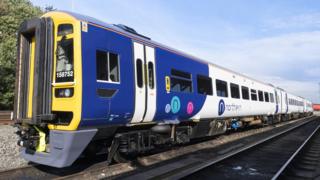 Northern rail passengers will be able to claim compensation if their train is 15 minutes late, rail minister Jo Johnson has announced.
Under the current Delay Repay scheme passengers can make a claim if their train is at least 30 minutes late.
Mr Johnson said: "Passengers deserve a reliable train service, and when things do go wrong it is vital that they are compensated fairly."
It follows a timetable overhaul, which led to cancellations and overcrowding.
Greater Manchester Mayor Andy Burnham said the announcement was "a welcome one".
He said: "Compensation for delays of 15 to 29 minutes has been available to passengers in London and other parts of the country for some time and its introduction in the North is long overdue."
He added Northern passengers "have had to put up with seemingly endless misery" and the move is "the least they deserve".
One passenger asked for compensation for "ongoing daily cancellations".
While another said passengers in the north "are the forgotten ones".
The changes, which come into effect in December, mean passengers delayed by between 15 and 29 minutes will be able to claim back compensation worth 25% of the single fare.
The extension to the Delay Repay scheme comes on top of the compensation package announced for Northern and TransPennine Express passengers who experienced unacceptable disruption following the timetable changes earlier in the summer, the Department for Transport (DfT) said.
Delay Repay compensation packages already exist on most train franchises, including Northern, for delays of 30 minutes, 60 minutes and two hours or more.
Northern's commercial director Mark Powles said: "We are putting in place the right measures to make it as easy as possible for our customers to claim compensation for delays to their services."
David Hoggarth, strategic rail director for Transport For The North, said it will be a "welcome step forward".
"Our focus remains on ensuring the train operators and Network Rail continue to improve performance for passengers."
Customers who wish to claim can complete a form on the Northern website providing proof of travel. The rail company said approved claims should be paid within 10 days.