Charity runner Ben Dave circumnavigates Yorkshire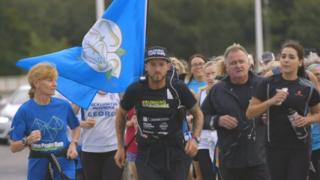 A runner has spoken of his completed 490-mile circuit of the Yorkshire border to raise money for a charity.
Ben Dave, of Harrogate, finished his solo running challenge on Saturday in Scarborough's South Bay, having left the resort on Yorkshire Day, 1 August.
Mr Dave ran 18 consecutive marathons around the county and raised more than £23,600 for a mental health charity.
"The biggest issue was the variety of the terrain, Yorkshire is such a massive place," he said.
Mr Dave said he had also run up about 41,000ft (12,500 metres) of elevation on his circuit - more than the height of Everest.
"I certainly didn't anticipate it being as difficult as it was. It's been quite an adventure but I had a lot of support," he said.
He said his highlights included the encouragement of crowds who came to see him in Sheffield, and the 70 runners who ran alongside him across the Humber Bridge, making him "feel like Forest Gump".
Mr Dave carried a tent on his back and camped in the wild or stayed in pubs and back gardens.
He was raising money for mental health charity Calm, a campaign against male suicide.
Mr Dave said he had been through a "wobbly patch and come out of the other end of that" in 2016. He hoped to encourage men to talk about their mental health and ask for help when it was needed.
He said overall he had "enjoyed the adventure more than the running".