Rail fares: Commuters 'pay fifth of salary' on season ticket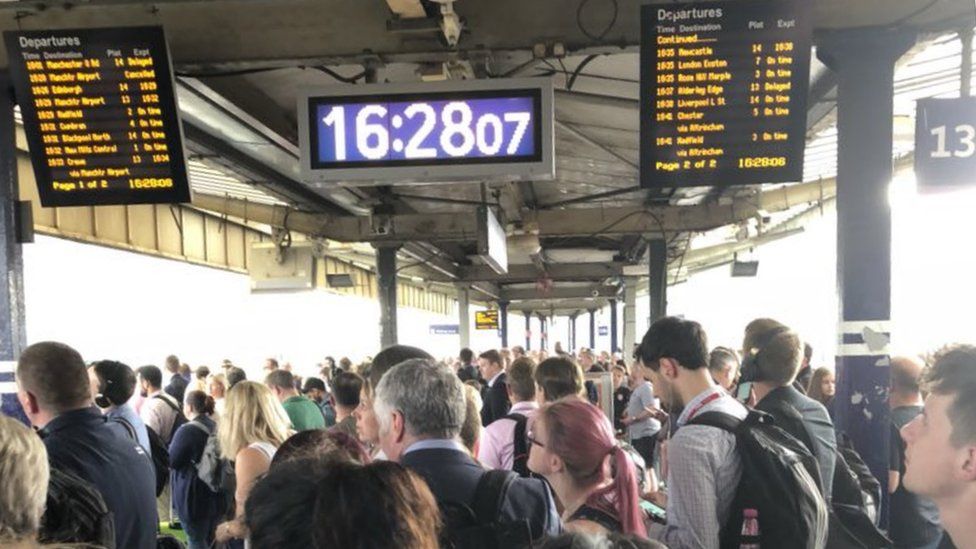 Rail commuters in England's biggest cities are spending up to a fifth of their take-home pay on an annual season ticket, BBC analysis has found.
It costs passengers up to 40p a mile to travel to work, with fares set to increase in January.
The Campaign for Better Transport (CBT) said passengers were paying more for services that had "deteriorated".
The Rail Delivery Group said 98p in every pound of fares went on "running and improving" the railway.
Many long-distance commuters will see the annual cost of getting to work increase by more than £100 from next year.
"Rail passengers have suffered deteriorating services this year, and are now being told they will have to pay even more in January," said Steve Chambers from CBT.
"Some commuters are spending a fifth of their take-home pay on commuting to work, which is shocking.
"Following the botched introduction of new timetables, the lack of improvements to services and the failure to quickly deliver compensation, the Government should agree to a fares freeze for January."
The group said it wanted to see fares frozen at their current level and for part-time workers to be given discounted season tickets.
July's Retail Price Index (RPI) was used to set January's 3.2% fare rises, which is lower than the 3.6% imposed in 2018.
Based on someone commuting five days a week, they would use their ticket about 228 days a year.
Analysis by the BBC England Data Unit of more than 80 season tickets - based on a commuter using their ticket 228 days a year - covering journeys to London, Birmingham, Manchester, Leeds, Bristol and Liverpool, found:
A full time worker on the median wage for one of these cities will spend an average of 11p in every £1 of their salary on an annual pass, after tax
Commuters from St Albans, Sevenoaks and Harlow travelling to and from London 228 days a year can expect to pay more than 40p for every mile travelled
Others travelling from East Didsbury and Macclesfield into Manchester and from Bath Spa into Bristol can expect to pay more than 32p per mile of their commute
A season ticket from Southampton Central to London will cost £5,885, which is over a fifth of the average full-time take-home wage for London, £28,685
Someone living in Cambridge and working in London will pay more than £5,000 for an annual pass, up from £4,952 in 2018
Season tickets will have risen an average of 9% since 2016
Paul Plummer, chief executive of the Rail Delivery Group, representing train companies, said: "For every pound paid in fares, 98p goes back in to running and improving the railway. We are ready to work with all parts of the rail industry to improve value for money for our customers."
Almost half of rail fares are regulated and increases are set by the government. In 2014 the government capped January fare rises at the RPI figure for the previous July.