Jellyfish in canal 'due to temperature rise'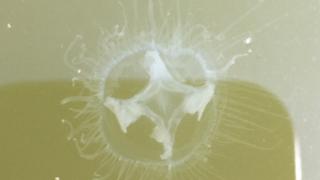 A sighting of a Jellyfish in a canal has been described by experts as "very strange".
They suspect the freshwater species' presence in the Shropshire Union Canal is due to an increase in water temperatures during the summer's hot weather.
The Environment Agency said the phenomenon was "not a common" occurrence.
The Craspedacusta Sowerbii species does not pose a danger to canal users.
It was spotted in an area between Middlewich and Winsford in Cheshire.
An agency spokesperson said: "Freshwater jellyfish can be found in any water body if conditions allow, but generally they are not common.
"I suspect that the sightings are water temperature-related, but I also believe that there will be other contributing factors."
Holly Male, the agency's fisheries team leader for Cheshire, Merseyside and Greater Manchester, said: "There has been a sighting of freshwater jellyfish in the Shropshire Union Canal, which is very strange."