The rise of the Comic Book Kids: Festival braced for youth invasion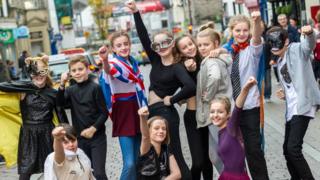 Comics have always been made for children, but what about the children who are making the comics? The BBC spoke to three who will be displaying their work this weekend at one of the UK's most prestigious comic art festivals - and one teenager who is already making a living as a full-time cartoonist.
'They are people I wish were real'
Fourteen-year-old Abi Kerner,from Wigan, started drawing when she was six, but it was only when she began attending the Lakes International Comic Art Festival with her parents that she fully realised the possibilities for comic book art.
A fan of manga - a style of Japanese comic books and graphic novels - Abi says that meeting artists at the gathering in previous years "encouraged me to see it as a career".
"It's exciting to be going again and exhibiting alongside them," she says.
"I'm hoping to get lots of advice, ideas and encouragement."
Among the stars of the comic book world who will be at the festival this year are Alan Grant and Frank Quitely, as well as a creative talent better known for his crime fiction than his drawing, Ian Rankin.
The process Abi uses to create her art sees her sketching in pencil before scanning her work, which she completes on a tablet.
She has created several characters as one-off sketches but is yet to work out a full story for them.
"They are people I wish were real," Abi says.
She is also designing a window display around the theme of the Land Girls of World War One for the festival, which takes over the town of Kendal for one weekend every year.
'This is what I want to do when I grow up'
Dundee is the birthplace of the Beano and the Dandy, so it is only fitting it also produced Drew Marr.
He started reading comics when he was four years old. By the time he was six, Drew was drawing his own.
"Comics have helped me a lot because of my dyslexia," he says.
"Drawing has helped me organise my thoughts and ideas."
His mother Kelly says: "With his dyslexia, he found looking at comics a really good way to follow a story."
Drew is currently working on a 10-part series, The Rehabilitation of Doctor Eye, which documents the reformation of a super-villain - Kelly says her son has always been more interested in villains than heroes.
He is a big fan of Marvel and wants to emulate comic book doyen Stan Lee - in more ways than one.
"He has said that if one of his comics is ever made into a film he wants to have a small cameo part like Stan Lee does in all of the Marvel films," Kelly explains.
"He has a good imagination and a really great sense of humour."
Is drawing just a hobby or a career plan?
"Both," Drew says.
"This is what I want to do when I grow up because I enjoy it so much as a hobby."
The Lakes will be his second convention having previously launched his comic book at DeeCon in Dundee in April, when he was only nine years old.
"I'm really looking forward to meeting other artists," he says.
Drew's books are currently being sold in six Forbidden stores across the UK and Ireland as well as his local shop Ahoy Comics.
To see his work on a shop shelf "felt really good", Drew says.
"I was quite proud."
'It's like this machine in my head'
In four years of drawing comics, nine-year-old Alec Anderson has produced hundreds of pieces, according to his mum Sophie.
In fact, the youngster from near Keswick in Cumbria is so prolific that his hands have started developing calluses like those of a professional artist.
"He is constantly drawing for hours and hours day," Sophie says. "It's how he expresses himself.
"He is amazingly talented but he really works at it to improve as well."
Most ordinary books don't have enough pictures, Alec says. "Comics are a nice way of visualising the story."
He started trying to draw characters he'd always liked but quickly realised he preferred coming up with his own, such as Wonderwear Woman, Water Man and Bionic Boy.
"It's a bit easier to make it up myself - I do not have to worry about making the characters the same as in other books.
"It's all stuff in my head mostly. It's like this machine in my head constantly spouting a billion ideas an hour which I have to draw."
The Lakes will be the first time he exhibits and sells his work, although he does share some of his creations on Twitter.
"The feedback he gets is lovely especially from other artists," Sophie says.
"That whole community of artists are just a really nice bunch of people, very encouraging."
---
'It's a hobby I do for my job'
Zoom Rockman had never seen a comic until, at the age of nine, he found a box of old Beanos at a car boot sale.
"I'd always liked drawing and telling stories but had never realised there was a medium that let you do both," he said.
He had soon produced his first comic, a collection of 20 of his best works, which was being sold in local shops in the area of London where he lives.
At 12 he had been invited to contribute a monthly strip to the Beano - his creation Skanky Pigeon - which he did for four years.
At 16 his work was used for the first time in the satirical magazine Private Eye, for which he is now a regular contributor.
His works have won numerous awards and he is now getting high profile commissions, recently producing a series of portraits of Winston Churchill for one of the statesman's favourite restaurants, Simpson's-in-the-Strand.
"It started as a hobby and it still is a hobby, just one I do for my job," he said.
"I love doing it."
Now aged 18, he is already a bona fide cartoonist and satirist.
So what advice would he offer to youngsters wanting to follow in his footsteps?
"Don't just talk about doing something, actually do it," Zoom says.
"If you want to draw a comic, draw a comic. Enter competitions, go to the comic festivals.
"When I first started going to the conventions I was the only young cartoonist around, there were not any others.
"So it is really cool to see so many young cartoonists doing it now."