Crime at airports has doubled in two years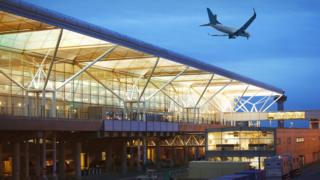 Passengers travelling with banned items like CS spray, knives and air rifles are partly to blame for a doubling of crime at airports in two years, police have said.
There were 5,234 crimes at or close to airports in England and Wales in 2017, compared with 2,432 in 2015.
Vehicle crime and weapons are among the types of crime to have increased.
Police said they confiscated small weapons from people whose own countries legally allow possession.
The airport with the largest number of overall crimes recorded on or near the premises was Stansted, with 1,870 in 2017 and 721 in the first five months of 2018.
In total there were 890 possession of weapons offences in 2017, and 434 in the first three months of 2018. This compares with 226 in the whole of 2015.
Stansted Airport accounted for the vast majority of these, with 718 crimes in 2017.
The airport also had the largest number of overall crimes, although it is the fourth busiest airport in the UK in terms of passenger traffic.
Stansted Airport referred requests for comment to Essex Police, who explained that the weapons offences were predominantly as a result of "visitors to the UK from countries where possession of these articles is not usually an offence".
A spokesman for the force said it "remains one of the safest airports in the UK".
"Earlier this year, all police forces had to adhere to a change in the way they recorded the seizure of CS sprays, small knives, air soft weapons and air rifles under the National Crime Recording Standards," he added.
He said most cases were dealt with by community resolution, which means they do not go before a court and do not result in a criminal record.
"There are rare situations where UK passengers are stopped at security checks in possession of these same weapons. They are detained by our officers and are either fined or put before a court," the spokesman added.
Essex Police has also run "highly visible yet unpredictable police deployments involving a police dogs, armed officers and CCTV teams" at Stansted Airport since November 2016.
Vehicle crime has also more than doubled with 88 cases in 2015, 181 in 2016, 169 in 2017 and 114 in the first five months of 2018.
Birmingham Airport saw the most vehicle crimes with 55 incidents just between January and May 2018, more than double the total recorded in 2017.
An airport spokeswoman said reports categorised as "on or near airport vicinity" or "on or near Airport Way" included "areas that are outside the boundaries of Birmingham Airport car parks". This included the National Exhibition Centre and Birmingham International railway station.
Birmingham Airport and its car park operator NCP said there were 10 incidents reported out of 800,000 car park transactions during the months January to March 2018, and a further 15 incidents out of 550,000 transactions in April and May.
"NCP engages with all relevant law enforcement agencies to mitigate the risk of vehicle crime and the team conduct regular patrols in the car parks," the spokeswoman added.
West Midlands Police and Crime Commissioner David Jamieson added: "As keyless technology has grown in popularity thefts have risen. Some vehicles are being stolen by criminals in less than a minute.
"These statistics again highlight that issue and the need for urgent action from the manufacturers of those vehicles."