United Utilities calls off summer hosepipe ban in England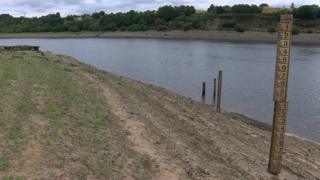 The first hosepipe ban of the summer that would have affected seven million people in England has been called off.
The temporary ban by United Utilities (UU) was due to start in the North West on Sunday to "safeguard essential supplies".
But recent rainfall, cooler temperatures and a reduction in water usage have led to it being lifted.
UU has warned that it may still need to introduce a ban at a later stage if the dry weather continues.
Martin Padley thanked customers for conserving water and said the company did not "want to inconvenience customers unnecessarily at this time".
"Our leakage teams are working 24 hours a day to find and repair as many leaks as possible and we have been moving water around our network," he said.
"The long range forecast from the Met Office is one of relatively dry weather into the autumn, so future restrictions are still a possibility if more rain doesn't arrive."
Forecasters predict temperatures in northern England would reach the mid-20s, with some rain while southern parts could reach 30C on Friday.
Europe is bracing itself for the hottest-ever temperatures with Spain and Portugal predicted to break the 48C (118.4F) record set in Athens in July 1977.
Mr Padley urged UU customers to continue taking steps to save water in their homes and gardens.
Robert Light, from the Consumer Council for Water, said: "Consumers deserve great credit for the way they've responded to the call to use water wisely."
Earlier this month UU, which supplies about 3.2 million properties, said it was moving water from Wales to boost depleted supplies across north-west England.
The first half of the summer in the UK has been the driest since 1961, UU said.
The company's drought plan says its "minimum level of service" permits bans no more than once in 20 years, on average.
It last imposed a ban in 2010 and the called off ban would have been the third in the company's 23-year history.
Last year, the water regulator handed the company an £8m "underperformance" penalty.