UK police forces spend £1.7bn on overtime in five years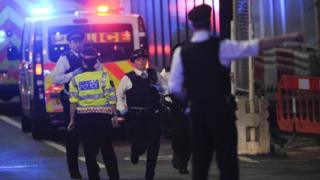 Police officers worked on average more than 97 hours overtime each in one year, a BBC investigation has found.
Overtime spending has reached its highest level since 2013 as the number of officers continued to fall.
Overtime cost £1.7bn in five years and the Police Federation said money spent in 2017-18 alone could have funded at least 10,000 new police officers.
The Home Office said forces could apply for additional funding when their resources were stretched.
Policing football matches and a high terror threat level has resulted in officers having to work additional hours, forces have said.
Chief constables have told the BBC there is a direct link between spending cuts, which have resulted in the loss of more than 22,000 officers since 2009, and the rise in overtime spending.
Forty forces spent £380m between them on overtime in 2017-18, up from £334m the year before.
Every force that provided figures for 2017-18 spent more than £1,000 per officer.
The Metropolitan Police, the UK's largest force, spent £490.8m between 2013 and 2018, while Police Service Northern Ireland spent £236.4m and Police Scotland paid out £106.8m.
Greater Manchester Police paid £92.7m and West Midlands Police accrued £66.8m in overtime costs.
'Plugging the gaps'
John Apter, chairman of the Police Federation said the overtime bill represented the "hidden reality of policing".
"Since 2009 we have lost more than 22,000 police officers," he said. "Over the same period police-recorded crime has increased with spikes in serious violent crime being experienced on our streets. It is clear to see that officers are increasingly expected to plug the gaps created as the service is stripped back to the bare bones."
He said policing was not a "nine to five" job and officers could not "just down tools and clock off the moment their shift is due to end".
"As such overtime is sometimes inevitable and often compulsory but it should not be used as a crutch to prop up the service enabling it to meet ordinary day to day demand", Mr Apter said.
He said the money spent on overtime in 2017-18 could have paid for 10,000 new constables in England and Wales for a year and that many officers would prefer an additional colleague to the extra pay.
The Police Federation said the average officer's annual salary was £34,000.
Actively recruiting
During the 2017-18 financial year, the Met dealt with three terror attacks, the Grenfell Tower fire and a spike in violent crime - resulting in "significant overtime expenditure" of £107.3m - almost £15m more than 2016-17.
Deputy Commissioner Sir Craig Mackey said: "It should be noted, however, that we are now actively recruiting and plan to be back to 30,750 officers by late next year.
"Police officers have had to work on rest days, sometimes at short notice and indeed on bank holidays in order to get the job done.
"Therefore, it is only right they are paid the correct overtime for their hard work."
Sir Craig added that the overall £490.8m payout in overtime was a fraction of the Met's £16.2bn budget over the same five-year period.
The National Police Chiefs' Council's (NPCC) Chief Constable Francis Habgood said overtime could be an "effective way" of managing unexpected incidents including terror attacks or missing people, but that officers numbers were down to the same level as in 1985.
He added: "We know our officers are under increased strain and that excessive overtime can be a source of stress and will affect personal lives."
Forty out of 49 UK police forces were able to provide five years' worth of data.
Although Police Scotland spent the third highest amount on overtime (£106.8m), the force had the lowest average overtime spend per officer (£1,033.13) out of all forces in the last full financial year.
However, in 2017-18 one Police Scotland officer received a payment of £109,854.60. The force said this was a result of back dated 'held in reserve' payments following a judicial review, rather than payment for hours clocked up that year.
Assistant Chief Constable Angela McLaren said Police Scotland monitored officers' additional hours in order to keep "overtime to a minimum".
"However, major events and incidents, both planned and unplanned, do occur - for example, planned events such as the Glasgow 2014 Commonwealth Games and unplanned incidents such as the UK threat level being raised to critical in 2017," she added.
"These events and incidents must be policed sufficiently to ensure we meet our first priority, which is public safety."
In a year that saw a suicide bomber kill 22 people in the Manchester Arena attack, Greater Manchester Police paid out the most, on average, to its officers.
Deputy Chief Constable Ian Pilling said the additional hours were also needed to cover for vacancies and for "policing special events", which included football.
He said the force was facing "the really difficult challenge of losing 2,000 officers in the last five years".
South Yorkshire Police's Assistant Chief Constable David Hartley said his force - which had 295 fewer officers than it did in 2013 - had a "heavy reliance" upon overtime to cover events such as protests and "high risk local derbies".
"The reduction of front line resource has a clear and obvious impact on the reliance on overtime to continue to offer the outstanding level of service to which we aspire.
Bedfordshire Police's Chief Constable Jon Boutcher said his force was facing a "significant funding shortfall".
He said: "Most recently, a request was made for £10m of increased funding by Bedfordshire Police, but we received a settlement of £3m.
"Until Bedfordshire Police is adequately funded, there will continue to be times where the use of overtime is essential in order to meet the demand."
The Home Office said it was investing £460m into the policing service and had a Police Special Grant scheme, through which forces could apply for extra funding when resources were likely to be stretched.
A spokesman added that any decisions around recruitment and resourcing were for chief constables and police crime commissioners.