Wanstead Flats grass fire tackled by 200 firefighters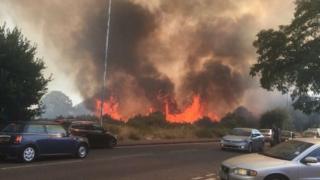 More than 225 firefighters have been tackling a large grass fire in east London, which has led to huge plumes of smoke being seen across the capital.
London Fire Brigade sent 40 fire engines to the blaze, on Wanstead Flats near Stratford, just after 16:00 BST after receiving more than 110 calls.
The fire service said the blaze was now under control but the site was still smouldering.
Earlier it said there was no immediate risk to life or property.
The Met Police has been advising people to avoid the area due to heavy smoke.
There were reports on social media of some residents saying they had been told to evacuate their homes.
Road closures are in place, including the A114, which is shut in both directions.
The fire service said the area affected by fire was the equivalent of about 150 football pitches.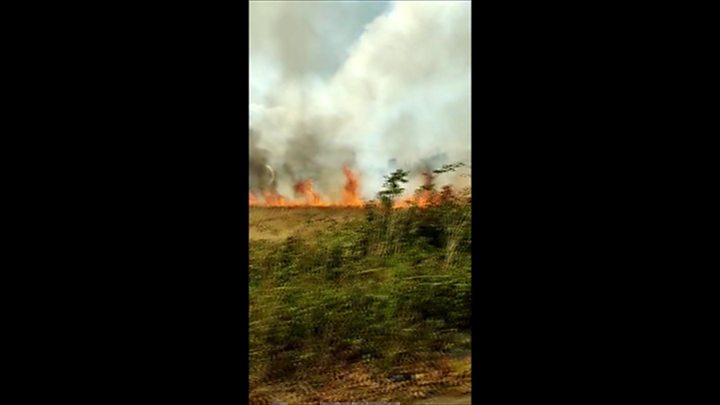 Group manager Rob Davies, who is at the scene, urged people living nearby to keep windows and doors shut.
"Grass fires can embed into the ground and so while it is now smouldering, crews will be there into the night to keep damping down the earth," he said.
"It can take a long time to properly stamp out a grass fire and while we expect to have crews at the scene for some time, we will reduce the levels of crews and equipment which will also help get roads moving again."
The fire service said it was using a range of different measures to tackle the blaze.
The National Police Air Service (NPAS) was also called in to help with the fire and tweeted photos showing the extend of the damage.
The fire service said it had been called to more than 20 grass fires so far this month.
"If you see a grass fire, don't attempt to put it out yourself as grass fires can travel very quickly and change direction without warning," Mr Davies added.