WASPI women rally in Birmingham for pension rights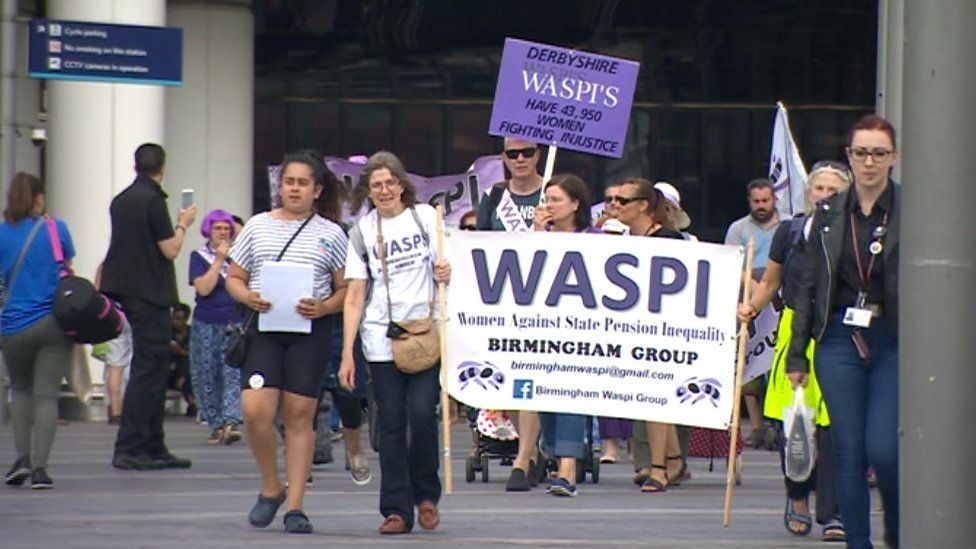 Hundreds of people have taken part in rallies campaigning for equal pension rights for women.
Some members of Women Against State Pension Inequality (WASPI) say they will lose thousands of pounds after the government increased the pension age.
Hundreds gathered in Birmingham's Millennium Point on Saturday, which would have been the birthday of suffragette Emmeline Pankhurst.
It was one of five events planned throughout the UK.
The campaign group was set up in 2015 on behalf of millions of women, born in the 1950s, who since 1995 have twice seen the start date for their state pensions pushed back.
Midlands co-ordinator Bridget Green said the issue was not about having to work longer, but the lack of communication that the state pension age for both sexes would rise from 60 to 65.
From 2018 the pension age will rise to 66, 67 and 68 for both men and women.
The 63-year-old former postal worker said she did not find out that changes would be coming in until she was 58, which meant there was no time to plan
"I've lost my job, because I am not fit enough to do it," Ms Green said.
"That was without a pension because they feel that if I had a job where I could sit when I needed, stand when I needed, didn't have to use my hands, I'd be fine.
"So now I am signing on and to be signing on at my age is ridiculous."
Women had been expected to travel from Birmingham, Solihull, Coventry, Lincolnshire, Burton, Uttoxeter, Lichfield, Gloucestershire, Stroud, Wales and Derbyshire to attend the Birmingham rally.
Other rallies were also being held in Manchester, Durham, Falkirk, Ramsgate and Southampton.
The government said it had committed £1bn to offset the impact of the changes and so no-one would see their pension date move more than 18 months.
However, Jack Dromey, Labour MP for Erdington and Shadow Pensions Secretary, said: "These are women who built Birmingham and Britain being cheated out of their pensions having to retire later than they planned and that is leading to real hardship."
Related Internet Links
The BBC is not responsible for the content of external sites.