World Cup 2018: Despair as England lose semi-final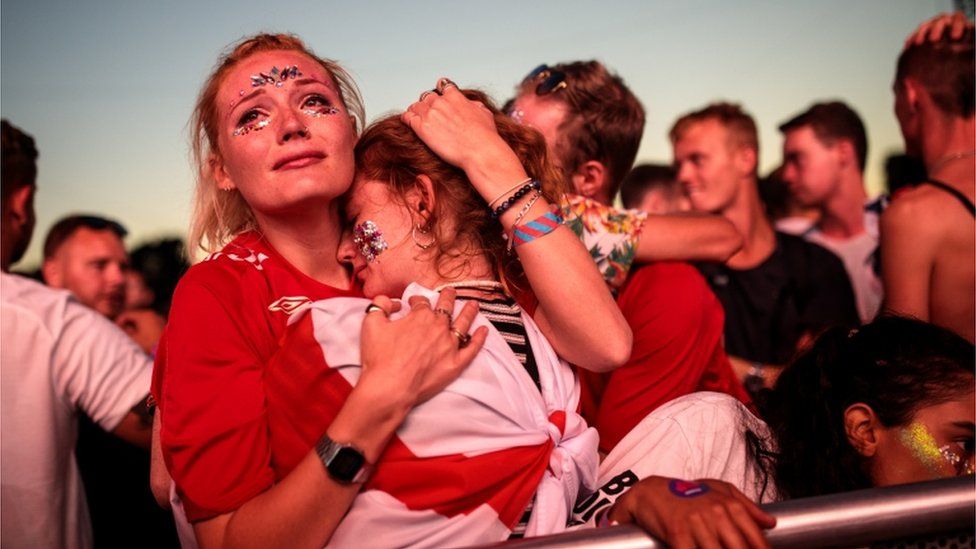 Summer 2018 will be remembered for a lot of things - but none as special as England's World Cup dream.
For the semi-final, millions of fans up and down the country packed into pubs, parks, castles and caravans to cheer on Gareth Southgate's men.
Our reporters were out and about soaking up the atmosphere as a nation dared to dream.
But it was not meant to be, with England's lions falling to Croatia in extra time.
At Hyde Park in London, up to 30,000 fans saw their team dig deep and battle. The screening of the World Cup semi-final was the biggest in the capital since Euro 96.
There were also screenings at Nottingham Castle, Manchester's Castlefield Bowl and on Brighton Beach.
While at Croydon's Boxpark, there was an early-doors beer shortage as joy turned to anxiety and then to heartbreak.
In Newcastle, the joy of Trippier's early goal turned to stunned silence when the second-half equaliser went in. And let's not mention Croatia's second.
At Hyde Park, father and son Andrew and Luke Downing, 39 and 13, were first in and at the front of the stage.
"We've been hovering around since two o'clock and came in as soon as the doors opened," Andrew said.
He added that he had every confidence England's pride and passion would get them to the semis.
About 8,000 tickets were snapped up to watch the game at Castlefield Bowl in Manchester.
The city had gone football crazy, with people leaving work early at about 15:00 BST.
Friends Jack Moore, Rhys Greenwood and Scott Barnes said the bowl is "the only place to be".
"This is better than being in a pub," said Rhys.
As fans poured out, the mood was one of pride.
Ibraheem Jameel, 23, from Manchester said: "We played well but were beaten by a better team. I am disappointed."
Mike Hoskinson, 24, from Warrington, added: "I am very proud - if you had said at the start of the tournament we would make the semi-finals I would have taken it."
And Nick Giles, 29, euphonium player with the Brighouse and Rastrick brass band, said: "We have exceeded all expectations."
Drenched in evening sunshine, the nation's beaches were a popular spot to watch the match.
Fans went wild on Perranporth, Cornwall, when Trippier curled home his early opener. But their happiness disappeared with the setting sun.
On Brighton Beach, fans were glued to a big screen on the sand, which was also beaming out the tennis before World Cup fever took hold.
Sean Tipping, 31, a sales rep from Lindfield, said: "They've done well no matter what."
At Nottingham Castle, 3,000 tickets sold out within minutes of going on sale.
Red and white filled the grounds as people nervously gathered around the big screen.
When the final whistle blew, the sombre silence in the once-buzzing locations said it all.
But defiant choruses of Oasis' Don't Look Back in Anger were soon ringing out, along with proud applause and the national anthem.
And while it may not have come home, it came close enough.
Related Internet Links
The BBC is not responsible for the content of external sites.