World Cup 2018: Do England play better in white or red?
By Tom Edgington
BBC Reality Check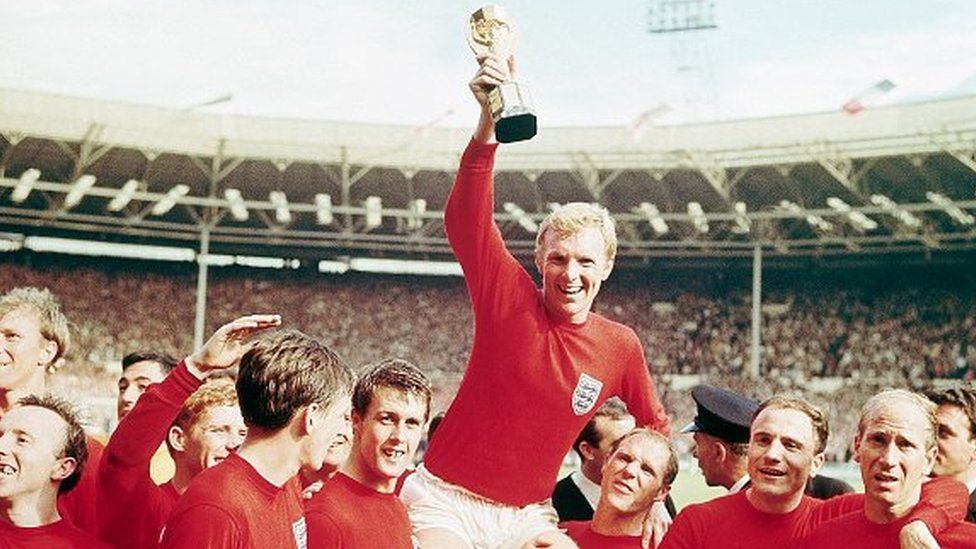 As England prepare for their World Cup semi-final against Croatia, fans will be looking for any omen that could point towards a first World Cup final since 1966.
You may think it's all down to the players on the pitch - but some fans believe the colour of the kit could influence the outcome.
That's because England's "lucky" red shirt is so closely associated with their one and (so far) only World Cup success.
But do England have a better record when playing in red?
But in the semi-final with Croatia, the Three Lions will be playing in all white - despite being the designated "away" team.
According to FIFA, the team assigned as the "home" side gets to wear their regular strip.
If the "away" team's kit colour clashes, the away side wears their reserve kit.
But because the Croatians normally play in red and white chequered shirts - which clash with both of England's strips - they will instead play in blue and black.
England do have a history of playing in white at the World Cup semi-final stage: they did so in 1966 and in 1990.
However, some fans would prefer it if England were marching out in red for this semi-final encounter:
Oh good. England are playing the WC semi final in white shirt and white shorts. Same colours they wore in 2014 when they lost to Italy and Uruguay.

— Neil Gibbons (@neilgibbons) July 9, 2018
England wore red shirts because Sweden were designated the home team. They have not been beaten in the last 17 games that they've worn red. And England have scored 11 goals in the 2018 World Cup - the same number they scored in 1966.

— Paul Gainey (@VanZandt221) July 8, 2018
Okay then, do we want England in white or red on Wednesday? While white is the traditional colour for #ENG, they have a strong connection to red and have won three games out of three in it at the #WorldCup

(Ignoring the colour of the shorts for both kits for now!)

— Kit Crimes ⚽️🏴󠁧󠁢󠁥󠁮󠁧󠁿 (@KitCrimes) July 8, 2018
So should these fans be worried?
At Reality Check we have analysed the almost 600 games (including friendlies) England have played between their 1966 World Cup success and their 2018 World Cup quarter-final win against Sweden.
In that period (1966-2018) England played in white 449 times. They won 258 times (57%), drew 109 (24%) and lost 82 (18%).
England also played in red 104 times - winning 53 of those matches (51%), drawing 31 (30%) and losing 20 (19%).
So the likelihood of losing a game is still around one in five regardless of whether England play in white or red - in fact England's record is slightly better in white.
Over the years England have also occasionally played in different iterations of blue, such as 1996 when they wore "indigo-blue" - although most people watching thought it was closer to grey.
In blue, the loss record is still 20% - only a couple of percentage points higher than white.
In 1973, England played three games in yellow. However, there were no Brazil-like performances - they failed to win a single game.
But can the colour of a team's kit really influence performance?
In 2008 Durham and Plymouth university researchers published a paper arguing red kits were associated with long-term success in the English professional game.
They said since 1947, English football teams in the top four divisions with a red home kit have been champions more often than would normally be expected (Arsenal, Liverpool, and Manchester United all play in red).
One theory is that wearing red could give a team a psychological advantage - because the colour is often associated with aggression and could make a team more confident as well as making opponents feel intimidated.
But a more practical reason could be that red, as well as other bright colours, simply improves visibility.
This makes it easier to pick out teammates, especially when passing the ball.
A 2015 Dutch study for the Journal of Sport Science undertook video experiments to see how easy it was to spot players on the pitch in different coloured kits.
And the good news - from England's point of view - is that, according to the research, white provides the best vision against a green football field.
So in white or red, the chances of football coming home are roughly the same.