South Western Railway users suffered "unacceptable" delays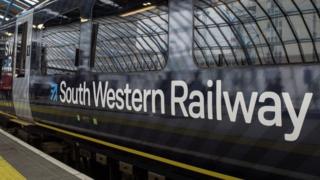 A regulator has criticised Network Rail for "unacceptable" disruptions experienced by passengers.
The Office of Rail and Road (ORR) has released a report on the organisation's contribution to the poor performance of South Western Railway (SWR).
It relates to days of delays caused by signalling and track problems in autumn 2017 following "improvement work" at London Waterloo.
The ORR said 68% of these delays were caused by Network Rail.
A spokesperson for Network Rail admitted its performance had not been good enough, and it planned to invest £2bn over the next six years on the London Waterloo route.
The report revealed the organisation sometimes failed to follow its procedures and last updated its contingency plans in 2011.
Figures showed SWR trains went from a 90.5% success rate for arriving on time in 2015-16, to 84.3% in 2017-18.
Graham Richards, director of railway planning and performance at ORR, said: "When things go wrong, it is essential that Network Rail works efficiently to get back to normal service as quickly as possible.
"Our investigation found that Network Rail has not updated its processes and technology to keep pace with the changes on the route."
The ORR will now share its findings with Sir Michael Holden, who is performing an independent review into SWR.
A spokesperson for Network Rail said incidents where its infrastructure failed and affected services fell by almost 6% in the last year.
"But we recognise there is more to do and, working with South Western Railway, we are already addressing the recommendations," they added.