Child killer Dominic McKilligan 'will do it again', mother claims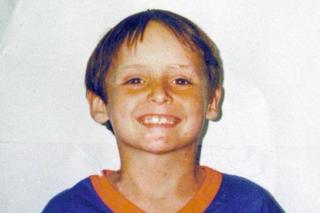 A child murderer will kill again if he is released, according to the mother of his victim and the former detective who lead the inquiry that caught him.
Dominic McKilligan, 38, abducted, beat and strangled 11-year-old Wesley Neailey in Newcastle in 1998.
He was jailed for life and ordered to serve at least 20 years but is now being considered for parole.
Wesley's mother, Liz Neailey, said McKilligan is "very dangerous and he'll do it again".
The Parole Board said it would "carefully look at a whole range of evidence, including details of the original evidence and any evidence of behaviour change".
"Public safety is our number one priority," a spokesperson said.
When he was 14, McKilligan was convicted of the gross indecent assault of four boys in Bournemouth, where he then lived, and sentenced to three years in a secure unit in Aycliffe, County Durham.
He was not charged with rape because the law - which changed the day after he was sentenced - deemed a child his age not capable of the crime.
He was not put on the Sex Offenders' Register because the Sex Offenders Act 1997 only came into force the day after he was released.
'Born evil'
This meant no-one was informed of his past - neither the police, the victims' families nor his landlady in the West End of Newcastle.
When McKilligan was convicted of Wesley's murder, Det Sgt Neil Claughton of Dorset Police said officers involved in this earlier conviction believed he was "likely to kill somebody in the future".
"We really do believe that there is a lad who probably was born evil," he said in 1999.
"At the ages of 12, 13, 14 he was committing serious sexual offences on very young children," he said.
"I believe that someone like him should never, ever come out of prison, because he's always going to be a danger to society, particularly to children."
McKilligan was jailed for life for the murder of Wesley Neailey and required to serve a minimum term of 20 years.
The detective who lead the inquiry, Trevor Fordy, said: "What I saw of [McKilligan] I wouldn't like him to be near any children.
"In my view he's extremely dangerous, and I don't think his time in prison will have lessened that danger."
Wesley's grandfather, Harry Hammond, believes the authorities "just don't realise what they're dealing with".
His grandson's "only crime was he was too friendly and he was taken in by a monster", he said.
"God forbid it should ever happen again."