Yorkshire Ambulance Service withdraws community defibrillator support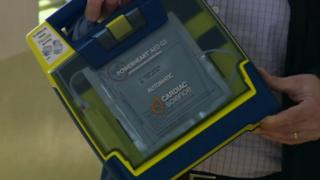 Dozens of community defibrillators will have to be maintained locally after an ambulance service said it could no longer afford to support them.
The Yorkshire Ambulance Service said it cannot maintain 100 devices given to rural communities and businesses in recent years.
It said those affected have been offered a new cabinet, battery and electrodes, free of charge.
Some have criticised the move, calling it a "false economy".
Emma Scott, community resilience manager at Yorkshire Ambulance Service NHS Trust (YAS), said: "As part of an initial drive, we donated defibrillators to 100 communities in Yorkshire and they have been maintained by the service since then.
"Unfortunately, it is not feasible for us to cover the cost and maintain all these devices."
She said there were now more than 1,400 devices across the region, with the majority already financed and maintained locally.
'Ongoing cost'
Councillor Jonathan Owen, chair of the East Riding Health and Wellbeing Board, has urged the ambulance service to reconsider.
"I am amazed that YAS are withdrawing their support for a service that must be perceived as a great life-saving support to local communities when they haven't the resource to respond rapidly in our rural areas through the normal 999 service.
"We will use whatever means we can to raise concerns and ask them to reconsider as this must be a false economy."
Residents said they had no idea there would be a cost to the community when the defibrillators were installed.
June Barton, from Hornsea, said: "At no time were we told there would be an ongoing maintenance cost.
"If that had been the case we would not have agreed because we cannot afford to maintain these defibrillators."
The trust said it would continue to provide guidance and support to communities "whenever they need it".
According to the British Heart Foundation, the local community would normally take responsibility for defibrillators.
This enables people to be engaged in training and helps to improve survival rates, a spokesperson said.
---
What is a defibrillator?
It is a device that gives a high energy electric shock to the heart through the chest wall to someone in cardiac arrest
This high energy shock is called defibrillation, and it is an essential step in saving a life
If someone has had a cardiac arrest, call 999 and start chest compressions or CPR
Then find out if there is a defibrillator nearby
Source: British Heart Foundation