Fire near Saddleworth Moor 'being treated as arson'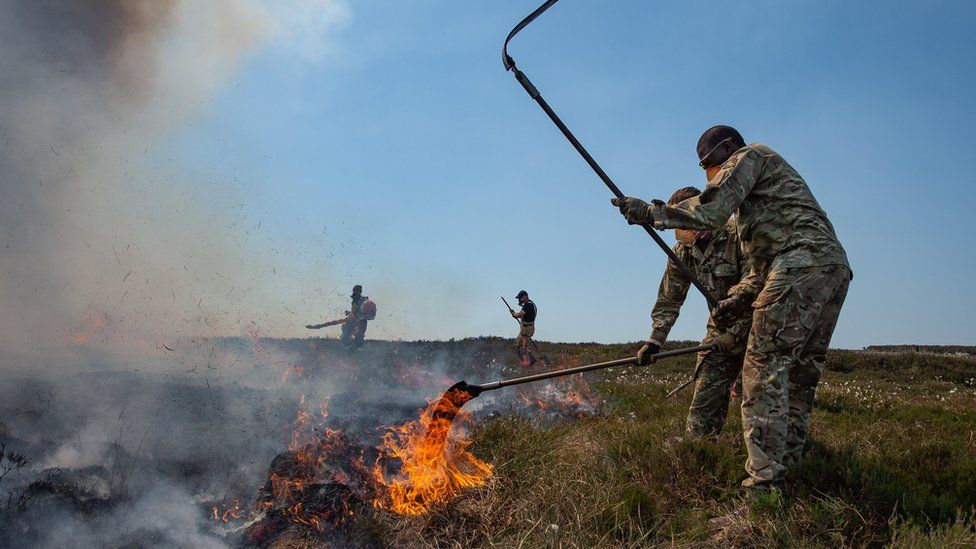 A huge moor fire which is "continuing to burn" is being treated as arson.
Greater Manchester Police (GMP) said people were seen lighting a bonfire on the moors near Stalybridge on 24 June, shortly before a call was made to the fire service.
Ch Supt Neil Evans said "solid evidence" on how the fire started "will not be easy to establish".
Hundreds of firefighters have been tackling the blaze, which spread to nearby Saddleworth Moor.
GMP said no arrests had been made but witnesses saw "a group of males" lighting the bonfire near to Buckton Vale at about 19:30 BST, 50 minutes before the 999 call was made.
A spokeswoman said the information had "come to light via Facebook in the past few days" and officers were "currently pursuing this as a possible line of inquiry".
She said police were "aware of some items discarded there" which had been recovered, but "quite a lot of evidence which might have been available at the time has been irretrievably damaged".
She added that there had been a "pattern, unreported to police, of people possibly setting bonfires [and] discarding cigarettes that has resulted in very small scale fires in the past".
The fire, which at its peak covered an area of 7 sq miles (18 sq km), remains "extremely challenging", police said.
Greater Manchester Fire Service said 10 crews remained at the blaze, where they have been supported by colleagues from across the country and about 100 troops from the Royal Regiment of Scotland (4 SCOTS).
Interim Chief Fire Officer Dawn Docx said firefighters were working with police to the "source of the ignition [and] there is an area of interest that specialist officers are inspecting".
She added that crews were "working in extremely difficult and challenging circumstances and are continuing to work hard to put out the multiple fires across the moorlands".
Ch Supt Evans said the investigation into the fire was difficult as the "scale of this fire is exceptional".
"The areas we have been able to look include dusty ash, burnt peat and grass and, because of this, our work with the fire service will be painstaking," he added.
Efforts have been supported by helicopters from water firm United Utilities, which are also aiding efforts to contain a blaze on Winter Hill, near Bolton.
About 20 crews from Lancashire Fire Service are working on that blaze, which began on 28 June and is also being investigated as arson.
Related Internet Links
The BBC is not responsible for the content of external sites.