World Cup 2018: What are England fans singing?
By Ben Jeffrey
BBC News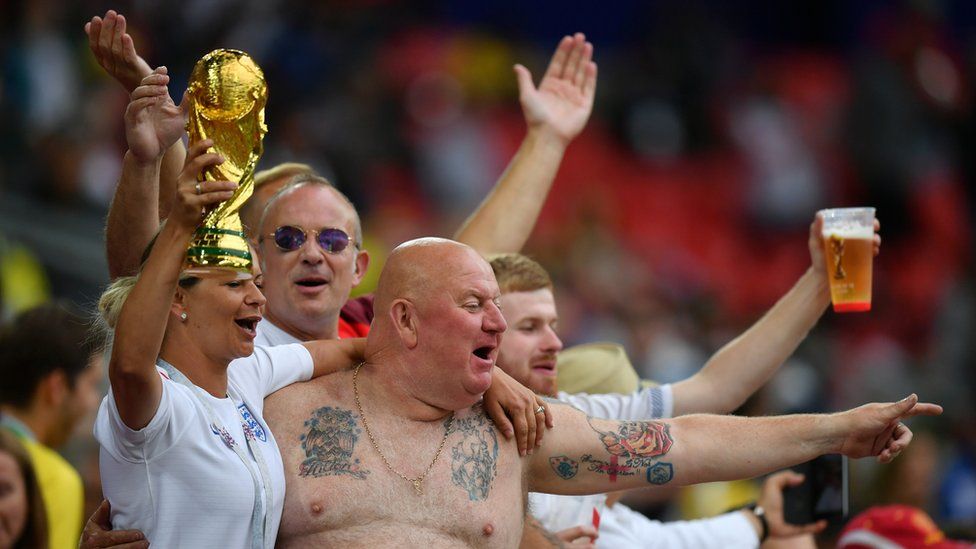 With England's footballers managing at long last to win a World Cup penalty shootout, supporters of Gareth Southgate's men remain in fine voice as their heroes' Russian sojourn is extended. But what songs are fans hollering before, during and after matches?
Not that this has put off the faithful from exercising their vocal chords - and even if their singing often lacks tunefulness, these spirited followers of the Three Lions surely make up for this with sheer exuberance.
It's February 2001 and England have just appointed Sven-Goran Eriksson as their manager after yet another dismal performance at a major football championships. Atop the UK singles charts sit Atomic Kitten with their smash hit Whole Again.
But what's that tune I can hear England fans singing during this World Cup? Yes, it's Whole Again - again - but this time with a lyrical twist.
Looking back on when we first met,
I cannot escape and I cannot forget,
Southgate you're the one, you still turn me on,
You can bring it home again!
The idea that the girl group's saccharine hit record would be revived as a paean to the England manager would have seemed improbable before the tournament kicked off, but World Cup fever can have rather strange symptoms.
A chant that's proved even more popular, so much so that it's arguably the unofficial anthem for fans of the Three Lions in Russia, is England's Going All The Way.
To the chorus from September by Earth, Wind & Fire, spirited supporters have changed the lyrics to reflect both the location of the tournament and their conviction that this time it really is going to be England's year.
Woah, England are in Russia,
Woah, drinking all your vodka,
Woah, England's going all the way!
As England have at last got past the hurdle of the first knockout round - for the first time since 2006 - supporters are scenting the possibility of an extended stay in Russia. Who knows, maybe they'll still be there on 15 July, the day of the World Cup Final?
This taste for experiencing all Russian culture has to offer was expressed throatily by these fans in the Spartak Stadium. Staying behind to savour England's triumphant penalty shootout, they belted out a stirring rendition of Please Don't Take Me Home - a chant also adopted by Wales fans during Euro 2016.
To the tune of Billy Ray Cyrus's Achy Breaky Heart, the Three Lions faithful hollered the following lyrical reworking.
Please don't take me home,
I just don't wanna go to work,
I wanna stay here and drink all your beer,
Please don't, please don't take me home!
Any expression of optimism about England's World Cup chances is likely to be vocalised at some point with a butchering of Three Lions by Baddiel & Skinner and The Lightning Seeds - as this video of supporters taken after the vanquishing of Colombia on Tuesday night amply demonstrates.
And talking of timeless classics, who's to say the England faithful won't return to another old favourite as Southgate's men take on Sweden at the Samara Arena on Saturday?
When the two sides met in Kiev during Euro 2012, groups of fans from both nations serenaded each other in the city centre ahead of the match.
To the tune of the chorus from Go West by the Village People, a choir of English patriots made it clear how little they thought of Sweden's footballers while at the same time expressing their attraction to Swedish women.
As the BBC News website has rules about this kind of thing, we can't show you this encounter - but we can provide you with a sanitised version of the chant.
You're poor, but your women - phwoar! (Repeat until hoarse.)
And so we give you the songs sung by England fans: rarely politically correct, inclusive or witty - and always based on unrealistic expectations.
Related Internet Links
The BBC is not responsible for the content of external sites.