'MI6 conman' Mark Acklom arrested in Switzerland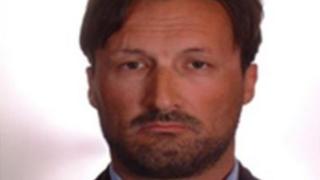 One of Britain's most wanted fugitives has been arrested in Switzerland, police have said.
Mark Acklom, who allegedly posed as an MI6 agent to con a divorcee from Gloucestershire out of her £850,000 life savings, disappeared in 2012.
The 45-year-old was tracked down to a luxury apartment in Zurich on Saturday night, Avon and Somerset Police said.
He is currently in Zurich awaiting extradition hearing proceedings.
Carolyn Woods alleged Mr Acklom posed as an MI6 agent and Swiss banker and conned her into "lending" him her savings during a year-long romance in Bath in 2012.
Two years ago a European Arrest Warrant was issued for Mr Acklom, and he was believed to be in Spain having been released from a Spanish prison over a £200,000 property fraud.
In October 2016 he was among 10 British fugitives named by the National Crime Agency (NCA) as the most wanted in Spain.
Det Insp Adam Bunting, from Avon and Somerset Police, said the arrest was the result of co-ordinated efforts between its officers, the National Crime Agency and the Swiss authorities.
"Acklom thought he could continue to evade capture by moving around Europe but we were determined to locate him and bring him back to this country," he said.
Ian Cruxton, from the NCA, said he was pleased for Ms Woods as she had been "waiting a long time for news of his arrest".
"The hunt for conman Mark Acklom started in Spain but as soon as intelligence indicated he had moved to Switzerland, we utilised our assets there to track him down," he said.
"I suspect a fraudster like Acklom will have continued offending while on the run, which is why it was so important to apprehend him."
He added the UK has a "well-established extradition treaty with the Swiss authorities" and court proceedings would now begin.
When Mr Acklom returns to the UK he will appear in court in relation to 20 fraud offences, 12 of converting or removing criminal property and eight of fraud by false representation.