World Cup 2018: 'Psychic' animals predict England v Sweden result
As the nation gears up for the next instalment of World Cup excitement, "psychic" animals across England have been making predictions for the quarter-final against Sweden.
We haven't got Three Lions but even so there's quite a menagerie of mystics - so are they expecting England to triumph, a disappointing exit, or even the tension of penalties again?
Phoenix's feline forecasts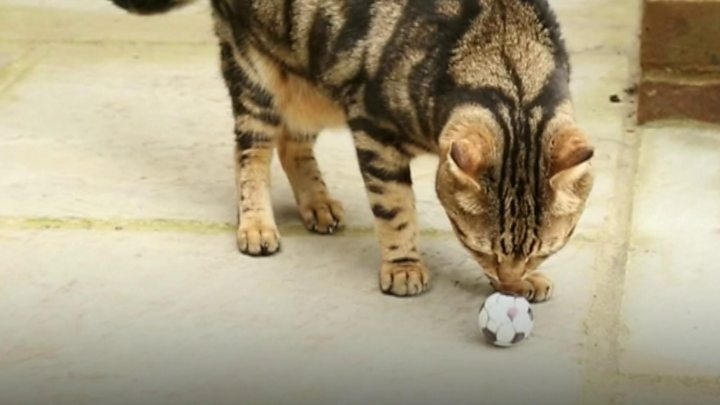 Rescue cat Phoenix from Cats Protection predicted all the England group games under his twitter hashtag #PawsomePredictor.
The 11-year-old tabby previously suffered a ruptured cruciate ligament - a common footballing injury - suggesting he might be the cat for the job.
"Phoenix may have had mixed results with his predictions so far, but he's proved to be a real hit with our supporters," said his owner Cat Jarvis.
"He seems to be quite the patriot, having predicted all wins for England, so here's hoping our team continues to do well."
Though Phoenix did wrongly plump for Uruguay to beat France on Friday...
Meerkat mediums
The mystic meerkats at Drayton Manor Park in Staffordshire used their dribbling skill to also predict an England win.
In its rather elaborate method of seeing into the future, the zoo set up two goals bearing the opposing teams' flags, with a draw post in the middle.
The meerkats played with meal worms in enrichments balls, and they have already made 10 successful predictions.
"They have thoroughly enjoyed the animal enrichment, their moment in the spotlight and the extra public attention," said Chris Mitchell, head of zoo operations.
''We can't help but wonder if our meerkat mob might be England's lucky charm this year?"
Insects with intuition
Even leaf cutter ants at Cannon Hall Farm in Barnsley, South Yorkshire, are confident England will progress.
Tiny versions of a St George's Cross and the Swedish flag were placed for the insects to grab and take back to their nest.
And the insects grabbed the red and white one first, confidently forecasting a Swedish defeat on Saturday.
Could this be a good omen for the quarter-final at the Samara Arena?
The guessing goat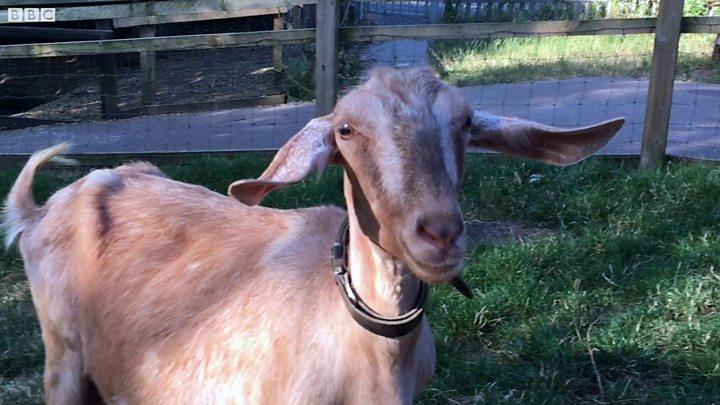 A milking goat from St Werburghs City Farm in Bristol is yet another animal to predict an England win against Sweden.
Barley has never displayed any psychic talent before but volunteer Alex Bowsher said he was "sure she has it in her".
"She's a ravenous girl on all occasions," he added.
Barley was released into a pen containing two buckets of feed, and almost headed for the bucket marked Sweden, before changing her mind.
Prophetic penguins
Pablo the gentoo penguin and his colony at Birmingham's Sealife Centre have predicted all England's victories so far.
And once again they have no doubts Gareth Southgate's men will triumph (are we sensing a pattern here?)
Flags have been attached to rocks in the birds' enclosure and they make their predictions by which one they chose to huddle on or around.
The aquarium's Twitter feed has been keeping anxious fans updated with the penguins' choices.
Mystic Marcus
Mystic Marcus the micro pig makes his predictions by eating apples marked with the flags of the teams involved.
He is believed to have predicted the outcome of the 2014 Fifa World Cup, the Brexit referendum and Donald Trump's election.
So the fact the animal, from Heage in Derbyshire, is also backing England on Saturday should be yet another boost for fans.
Admittedly Marcus previously picked Belgium, Argentina, Nigeria and Uruguay to reach the semis, but no-one can be right all the time.
Clairvoyant Corbie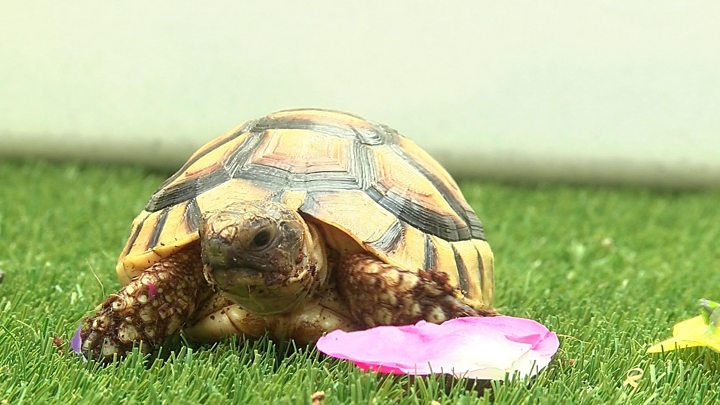 Corbie the tortoise started the tournament well and successfully predicted the result of every England group stage match in the World Cup.
But the Jersey-based tortoise came unstuck earlier this week when he backed Colombia to beat England in the last 16 - as you may have heard England won on penalties.
"Corbie" is aiming for reptile redemption and - using his system of munching flowers left on the flags of the competing countries - he has backed England to defeat Sweden and make it through to the semi-finals.
His owner, Russell Soudain, said: "Corbie is getting behind England and has foreseen a comfortable win over Sweden in the flowers.
"Hopefully no need for penalties this time, come on England!"