M6 Toll bosses 'urged' to rethink price rise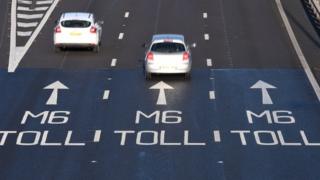 A letter urging the owners of the M6 Toll road to reconsider price rises of up to 10% has been sent by council leaders.
From 30 July, prices for cars will rise by 50p per journey between 06:00 and 23:00, reaching £6.40 on weekdays and £5.30 at weekends.
Midlands Expressway's plan has led to calls for the route to be nationalised.
The director of the RAC Foundation, said it should be brought under control of government-owned Highways England.
The West Midlands Combined Authority (WMCA) has been encouraging motorists to use the toll road in recent months, in an attempt to tackle congestion and air pollution.
'Sore thumb'
The letter sent to Midlands Expressway, the owners of the 27-mile toll road, said: "We are extremely disappointed at the decision by Midland Expressway Ltd (MEL), to increase charges, in particular for HGVs."
Lorries will be subjected to higher charges, with weekday journeys costing £11.50 and weekend trips priced at £9.80.
The letter, sent by the Mayor and leaders of all seven metropolitan councils, continued: "We are also surprised that MEL is proposing these increases at a time when a major public consultation on air quality, including the introduction of a clean air zone in Birmingham, is about to begin."
The letter concluded by saying they "trust" MEL will "reconsider" price increases and will work on "improving air quality and managing congestion".
'Great value'
Steve Gooding, director of the RAC foundation, said: "When conceived, the M6 Toll was intended to be a pathfinder beacon for much more similarly toll-funded road capacity, but since that never happened the reality is that the M6 Toll sticks out like a sore thumb.
"Surely the right answer is for it to be properly integrated into the Highways England network, toll free."
The MEL said the road "offers significantly increased reliability and reduced journey times compared to the heavily congested M6".
They added it offers "great value for money for drivers."