'Large fire' near Crewe station disrupts trains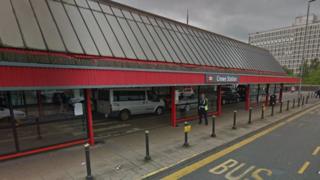 A "large fire" near to a railway station is disrupting trains in and out of a busy hub.
The grass fire on an embankment near to Crewe station damaged signalling and cable equipment and disruption is expected to last well into the evening.
Passengers said they were "delayed and cramped" as they took alternative routes.
National Rail said no road transport was available to operate between Crewe and Chester.
The fire was first reported shortly before 14:00 BST with National Rail stating the fire service were attending a "large fire on the railway embankment near to the station".
Electric overhead wires were turned off so the fire could be dealt with.
However, it took the fire service more than two hours to extinguish the flames, it said.
National Rail advised passengers travelling between Crewe and Chester to instead journey between Crewe and Warrington Bank Quay.
However, passengers experienced delays and cramped trains.
Ian Morton said on Twitter: "So over two hours stood at Crewe to get sent to Warrington for a train that isn't here.
"There must be 200 people across this platform waiting an hour for a train we aren't gonna fit on."
The news comes as earlier, rail services in Birmingham were being affected by a fire close to the track at Five Ways.
Services through the station were likely to be delayed, said West Midlands Railway.