Third man jailed over plot to smuggle firearms into UK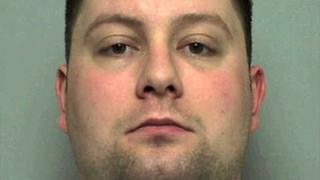 A third man has been jailed for 12 years for smuggling fully-loaded automatic firearms into the UK by attaching them under a tourist coach.
Andrew Billings, 31, from Rushetts Close, Crawley, West Sussex, admitted two charges at Hove Crown Court.
Two other men were jailed last September after also admitting charges in connection with the armed cache.
Nicholas Barbary, 29, was jailed for 12 years, and Mark Maynard, 30, was sentenced to 16 years and two months.
Barbary, of Walesbeech, Crawley, and Maynard, of New England Road, Haywards Heath, admitted importing, and possessing with intent to endanger life, a pistol and two automatic sub-machine guns.
They were stopped by police on the M23 near Crawley on 17 January 2017 who had followed them from Coventry, where they had retrieved the items.
The fully-loaded weapons were found wrapped in black plastic tape attached to the underside of their hire van by magnets. More than 150 rounds of ammunition were also discovered.
They had been attached by similar means to the bottom of a coach that had just returned from a tourist trip to Belgium.
Netherlands arrest
Sussex Police said Barbary travelled to The Netherlands via Belgium earlier that month, collected the firearms from Billings, and attached them to the underside of the coach.
Billings was arrested in the Netherlands on 25 July and extradited to the UK in October.
He pleaded guilty to being concerned in the fraudulent evasion of prohibition on the importation of goods, and conspiracy to possess firearms with intent to endanger life.
The judge gave him an extended sentence with an extra four years on licence after he is released.
Det Sgt Paul Graham, of Sussex Police, said it had not yet been established exactly what was planned or where the weapons were to be moved to once they arrived in the UK, and inquiries were continuing.
"But they were clearly intended for criminal use in or around Sussex," he added.
There was no evidence of any terrorist connection or motive in the case.