'Punish a Muslim Day' letter suspect appears at Old Bailey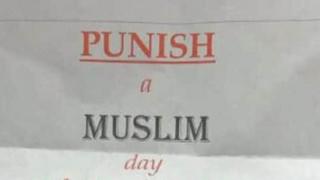 A man will go on trial accused of sending letters calling for a day of violence against Muslims.
The "Punish a Muslim Day" notes calling for a coordinated attack on Muslims were sent to addresses across the UK.
David Parnham, 35, from Lincoln, has been charged with a total of 14 offences, including soliciting to murder and staging a bomb hoax.
He was remanded in custody and will go on trial at the Old Bailey on 26 November.
The letters were reportedly received in communities across England and Wales.
Mr Parnham, of St Andrew's Close in Lincoln, appeared at the Old Bailey via video link from HMP Wandsworth.
Mr Parham faces:
One charge of soliciting to murder
Two charges of sending letters promoting a "Punish a Muslim Day", encouraging the commission of offences
Five counts of sending a hoax noxious substance
Five charges under the Malicious Communications Act of sending threatening letters
One charge of staging a bomb hoax