'Small' earthquake near Gatwick airport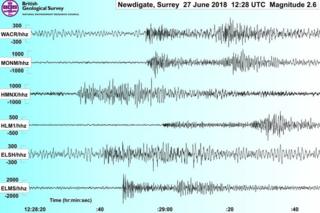 Houses and furniture shook when an earthquake hit Surrey and West Sussex earlier.
Scientists from the British Geological Survey (BGS) said the 2.6-magnitude tremor was felt in Newdigate, Charlwood and Crawley.
The quake epicentre at Newdigate, near Gatwick Airport, happened at a depth of 5km (3.1 miles) just before 12:30 BST.
Members of the public spoke of shaking, rumbling and even an explosion.
Describing the quake as "small", Sarah Nice from the BGS said Gatwick Airport staff probably would not have realised it had happened.
However, she said one person said "the whole house shook" and another felt "a rumbling then a dull explosion".
Further reports sent in to the scientists described a "loud thud" and one person told them the furniture shook.
'Creme fresh low'
Others took to social media making light of the situation.
Daniel tweeted: "Please people, pray for the people of Surrey. Is Waitrose still open? #earthquake #surrey""
Michael Moran replied: "We're ok, we're all pulling together and have pooled our Perrier and cuscus although creme fresh is running low. Plenty of 4x4's on hand (obviously not as many as W4 though) 😉"
Ms Nice said Britain was not in an earthquake zone but its rocks did have stresses and strains that could move and lead to tremors.
Fewer people than normal would have felt the quake because it was in the day, she added.
"If it's at night, people are sitting down or in bed and they feel them more," she said.