Great Western Railway: 'Critical shortage' is seven trains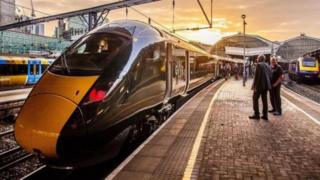 Services have been disrupted due to a "critical" rail shortage - of seven trains.
Great Western Railway warned of cancellations and fewer coaches on its London to South Wales route due to its fleet of 196 trains being 3% down.
A notice on the website said a "number of trains" had broken down on Monday. The figure was two.
GWR blamed an "unfortunate" mix of problems, including trains "being in the wrong place", for the disruption.
A statement on its website warned "we are critically short of trains for today's service", with delays, cancellations and fewer coaches than normal.
An earlier points problem in Oxfordshire and a broken door on a power car have added to the issues.
A spokesman added: "A single train being in the wrong place could impact three or four services."
Travellers have reacted to the problems, saying that services are running with fewer carriages or much slower.
Earlier, a points failure between Didcot Parkway and Swindon led to cancellations and delays of up to 40 minutes between the two towns.
Last October, the company launched a new fleet of InterCity trains on the Great Western main line, initially operating between south Wales and London Paddington and between Bristol Temple Meads and London Paddington.