'Open season' for rail graffiti artists, expert warns
By Stuart Bailey
BBC News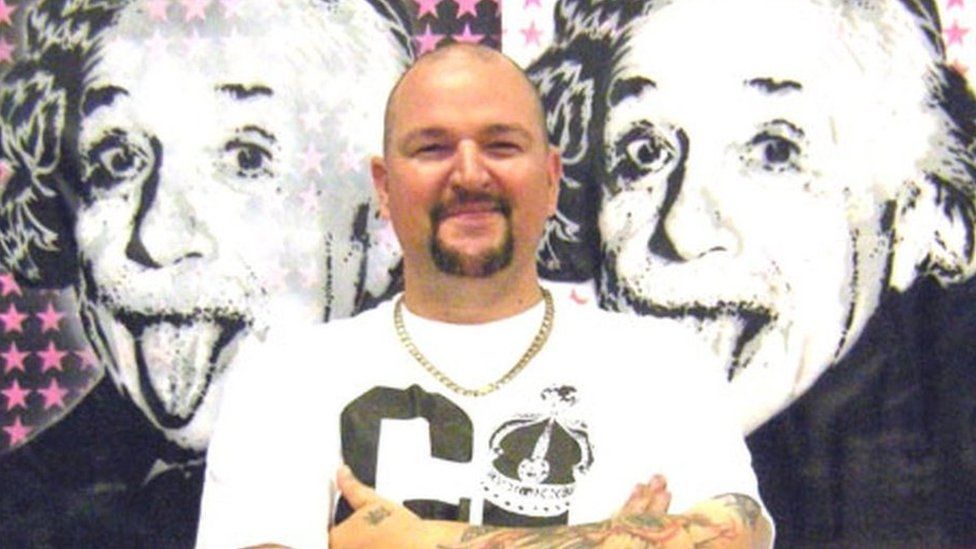 It is "open season" for graffiti artists, according to an expert who claims the problem has gone "through the roof" in recent years.
Darren Cullen, who started writing tags on walls aged 10, now runs graffiti workshops to help youngsters develop their skills legally and safely.
Mr Cullen, 44, argues that a lack of spending on youth services is driving many young people to crime.
Mr Cullen said graffiti artists were targeting the railways because they "think that that's where graffiti is supposed to be".
He sees a lack of legitimate channels for young people to express themselves creatively as being behind the increase in vandalism.
"There's nothing to do any more - no youth centres - so you just go on the streets with your mates.
"Youngsters these days want to make music, want to be DJs and use technology.
"It costs money [to run youth services] but it could be money well spent, and the centres that do it are thriving."
Mr Cullen also believes many graffiti artists ignore the risks because their hobby gives them a sense of "escapism" from their day-to-day lives.
He said: "I grew up on a rough council estate and every day I'd wake up and wonder if it would be the day I'd get a knife in the belly.
"You'd go out all day feeling on edge and graffiti was a bit of fun and a way of escaping daily life."
Mr Cullen started running workshops with youngsters in London in the 90s to give them an outlet for their creativity and said it led to a drop in vandalism.
He said graffiti art had grown in popularity in recent years thanks to high-profile work by the likes of Banksy, although he believes it is just a minority of people who are vandals.
"But it's a problem that's gone through the roof in the past couple of years," he added.
"It really is open season again."
Tagging on the railways has hit an eight-year high in Great Britain.
In the first three months of 2018 there were 982 graffiti attacks on trains, stations, lines, depots or footbridges - the highest quarterly figure since 2013.
The number of young people arrested has decreased by 79% over the past 10 years and by 14% alone in the past year.
Glynn Judd was given a 16-month jail sentence in 2012 after admitting to graffiti vandalism of trains and is critical of the severity of some sentences for criminal damage.
"Paedophiles and burglars get less of a sentence in most cases," he said.
"I think custodial sentences for criminal damage is very harsh and doesn't send a clear message to deter others.
"The majority of people who graffiti public transport these days have very little going on in their lives and their whole life becomes graffiti-based."
He also blames the rise of vandalism on the rail network on a "lack of security and a low risk of being seen".
A British Transport Police spokesman said: "We regularly run high-visibility patrols to target hotspot areas in order to tackle offending head on and deter further graffiti incidents.
"In addition to these measures, we regularly meet with the rail industry to discuss preventative steps that can be taken to deter offending.
"This includes the use of both overt and covert CCTV cameras, highly visible patrols of police and security staff, educating young people about the dangers of trespassing on to the rail network and introducing anti-graffiti technologies."
Related Internet Links
The BBC is not responsible for the content of external sites.