GTR and Northern rail bosses 'were aware' of likely chaos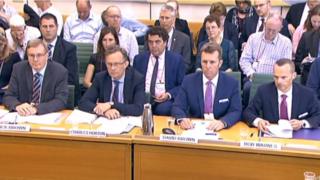 Rail bosses were aware of the scale of chaos a new timetable would have on the network, two days before it was officially implemented.
Bosses of Govia Thameslink Railway (GTR), Northern and Network Rail faced questions from a committee of MPs.
It emerged driver rosters were only drawn up three weeks before the change on 20 May, instead of 12 weeks.
It was at this late stage a "mismatch in skills" was discovered, with many drivers not trained on new routes.
Hundreds of services have been disrupted across the Northern and GTR networks since schedules were changed.
In the first two weeks, the proportion of trains either cancelled or delayed by more than 30 minutes was 13% for GTR and 11% for Northern.
Both operators introduced temporary timetables on June 4, removing around 6% of daily services in a bid to boost reliability.
'What's the point?'
Former chief executive of GTR Charles Horton, who resigned last week, said: "This has been a systemic failing of the industry's timetabling system which has had devastating consequences on our customers and we are very, very sorry for that".
However at a Rail Industry Readiness Board on 4 May, GTR predicted a high risk of cancellations.
One MP on Monday's Transport Select Committee asked: "What's the point of the board if they get a red flag and don't do anything about it?"
Nick Brown, chief operating officer of GTR, said: "The board was looking to us to help mitigate."
The committee heard by the time the "scale of the problem" was revealed on 18 May it was too late to delay the timetable launch.
Mr Brown said a delay "would have been worse, because of the interworking across the Network Rail routes".
A member of the committee said: "I understand it would delay benefits for some people, but you're setting that against causing massive disruption to 35% of the network."
Jo Kaye, head of system operations at Network Rail, replied: "We all believed that the mitigations we were putting in place and the rewrite we were doing would produce a better outcome for passengers.
"That clearly turned out not to be the case."
GTR and Northern both agreed a variety of factors were to blame for the timetabling disaster.
Network Rail projects to electrify routes on Northern were delayed, and this was highlighted as a huge setback.
David Brown, head of Northern, told the committee it meant they had 16 weeks to plan the timetable instead of 40, and 450 drivers needed further training.
He accepted there "may be a criticism that we didn't shout louder and earlier in the process".
With a second big timetable change planned for December Mr Horton told MPs this situation should never be repeated.
He added: "We should never embark upon a major timetable change again where the planning horizons have become compressed to this level."