Govia Thameslink chief executive Charles Horton resigns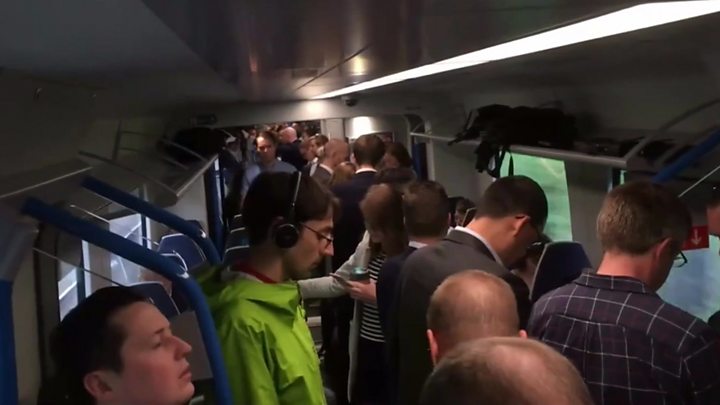 The boss of beleaguered rail firm Govia Thameslink Railway (GTR) is to resign.
Passengers have faced major disruption as hundreds of trains were cancelled following the introduction of new timetables in May.
GTR, which runs Thameslink, Southern and Great Northern, said chief executive Charles Horton would remain in post for a short time to oversee the development of a temporary timetable.
The RMT said: "The rotten franchise he was steering remains in place."
Announcing his resignation, Mr Horton said: "I recognise that passengers have been hugely frustrated at the significant disruption caused by the introduction of new timetables.
"It is the right time to hand leadership of GTR to a new pair of hands."
GTR - Britain's largest rail franchise - changed the time of every train on its timetable on 20 May.
Passengers were warned of disruption before the changes were brought in, but the implementation of the new timetable saw some services withdrawn and further cancellations without any warning.
The changes affected the Southern rail, Gatwick Express, Thameslink and Great Northern networks.
About 230 daily services were removed from GTR's routes to make for a "more consistent timetable", the company said.
Last week, it emerged the firm was using taxis to make sure students could get to exams on time.
And Mr Horton - who will be grilled by the Commons Transport Select Committee on Monday alongside other rail bosses - admitted being delayed by his own trains.
In a letter to staff, he said: "In my view, this was an industry-wide failure of the timetabling process. But with leadership comes responsibility and so I feel it is only right that I step down.
"Before my departure in a few weeks' time, I will continue to work with my colleagues to ensure a smooth handover as we work to put our railway back on track and give our passengers a reliable service once again."
RMT general secretary Mick Cash said: "Mr Horton may now have gone but the rotten franchise he was steering remains in place and no change at the top will alter that.
"This whole basket-case operation is a failure on every level."
Charles Horton has been chief executive of Govia Thameslink Railway since September 2014, having previously been managing director of Southeastern.
He started his career in transport at the London Underground in 1985, rising to station services director.
Mr Horton moved to Connex South Eastern in 2000. He then became managing director of Southern Railway from 2003 to 2006, when he moved to Southeastern.
Analysis
By Tom Edwards, BBC London Transport Correspondent
The timetable launch was meant to be a new dawn for commuters of new, faster trains and more destinations.
Instead it has been a total shambles and descended into cancellations, delays and commuter fury. And now the debacle has claimed its first victim, Charles Horton.
He has been resilient - even last week he told me he'd stay and sort the mess out - and he withstood pressure during extremely disruptive Southern strikes over guards' roles on trains.
But this timetable launch has been so disastrous he has fallen on his sword.
Industry sources say it doesn't mean he takes full responsibility - the timetable is an industry-wide issue.
It will all now be subject to an independent review.
The bad news for the nearly half-a-million commuters on the mega-franchise is this will not resolve cancellations and delays in the short-term.
There is a shortage of "route-trained" drivers for London's central tunnelled section, which could take months to resolve .
Emily Ketchin, founder of campaign group Harpenden Thameslink Commuters, said: "The so-called timetable that Thameslink is running today is more like a lottery.
"Customers need to see leadership and a rapid improvement to correct the errors that Mr Horton is leaving behind."
Anthony Smith, chief executive of passenger watchdog Transport Focus, said: "Passengers will probably welcome a fresh start and this recognition of the problems."
A Department for Transport spokesman said: "Clearly the disruption that passengers have experienced following the recent timetabling changes has been unacceptable and it is right that the industry takes responsibility for its performance.
"We will continue to work closely with GTR's leadership to deliver improved services for passengers. Meanwhile, an independent inquiry will get to the bottom of what happened and make sure this does not happen again."
Bedford commuters said Thameslink services were "destroying lives".
Katy Marshall said trains were dangerously overcrowded, and Ellie Jones said people were left standing and "falling into each other" on trains, with nothing to hold on to.
Dawn Sawyer-Sheppard said: "We cannot continue like this, it's destroying lives, jobs and towns."
Another commuter, Fabrizio Garguulo, described Thameslink as a "poor excuse for a train service".
Louisa Branson said: "I think that the mental health impact on all commuters is a ticking bomb. People are trying to be kind and decent to each other but after long busy days in the city, patience with one another is wearing very thin on the routes home.
"I for one struggle with being so up close and personal with my fellow sufferers."
AA president and Thameslink season ticket holder Edmund King said it had gone beyond a joke, adding: "If this sorry performance continues, more passengers will give up on the railways and take to the congested roads."