Player spoke of abuse by George Ormond after seeing TV interview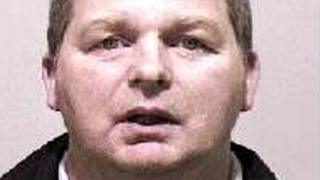 A former Newcastle United player came forward to tell of being abused by a youth coach after seeing another footballer speaking on television.
The player told Newcastle Crown Court that George Ormond, 62, molested him.
He spoke out after seeing Andrew Woodward discuss about being abused by another coach, Barry Bennell, on the Victoria Derbyshire programme in 2016.
Mr Ormond denies 36 counts of indecent assault, one of indecency with a child and a serious sexual assault.
The former player, who cannot be identified for legal reasons, alleges Ormond came to his room and masturbated beside him and urged him to join in.
He also said two years later, Ormond molested him in his van.
He confided in his partner in 2002 when Ormond was on trial for similar offences.
'He did that to me'
The player told the jury: "She said 'Do you know a coach called George Ormond at Newcastle United?'
"I said 'yes', and she said 'Oh my God, he has been charged with sex assault on young footballers', and I was just like 'Babe, he did that to me'."
He refused to report the matter to the police, fearing he would not be believed.
But he told the court he changed his mind when he saw Andrew Woodward explaining he had been raped.
He said: "I felt I had to do that, I have to tell my story about what happened."
Another former player also told the jury he had been sexually abused by Ormond.
He was accused by the defence barrister Rebecca Trowler QC of seeking compensation from Newcastle United on the back of his allegations.
He said it was "extremely insulting" to suggest he would tell lies for financial gain.
Mr Ormond volunteered as a kit man, bus driver and general helper with Newcastle United's youth teams.
The charges concern 19 complainants, over 25 years from 1973 to 1998.
The trial continues.