Mayors want to control £1.3bn unspent apprenticeship funds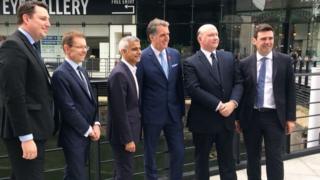 Unspent apprenticeship funds totalling £1.3bn should be given to England's regions, elected mayors have said.
The politicians said employers are finding the apprenticeship levy system too complex and are not spending surplus money, which could fund about 200,000 apprenticeships nationally.
At a Liverpool summit, the eight mayors also called for further devolution of skills policy for 16 to 19-year-olds.
The mayors said they should be trusted with local control of skills.
In 2017 the government introduced the levy which requires any organisation with a wage bill over £3m to make money available for the training of new apprentices.
However, the number of workers starting apprenticeships in England since its introduction has dwindled.
Liverpool City Region Mayor Steve Rotheram signed a joint statement with his counterparts, which also requested additional funding for "quality providers" to "drive the quality of apprenticeships."
London Mayor Sadiq Khan said: "I want to go even further, and for London's whole contribution to the apprenticeship levy to be ring-fenced and devolved to spend on meeting the capital's complex skills needs."
The statement said the mayors "recognise the government's efforts to reform the skills system".
But the mayors highlighted "a 24% drop in new apprenticeship starts" since the levy was first implemented.
Tees Valley Mayor Ben Houchen said regional mayors were "best placed to solve the issues facing our area" and to "develop home-grown talent".
Cambridgeshire and Peterborough Mayor James Palmer called for more devolved powers to "act more robustly on skills shortages" and give the country "the economic shot in the arm that is so needed".
England's elected metro mayors
Sadiq Khan - London - Labour
Andy Street - West Midlands - Conservative
Andy Burnham - Greater Manchester - Labour
Tim Bowles - West of England - Conservative
Steve Rotheram - Liverpool City Region - Labour
Ben Houchen - Tees Valley Combined Authority - Conservative
James Palmer - Cambridgeshire and Peterborough - Conservative
Dan Jarvis - Sheffield City Region - Labour