New air quality study to check 3,000 children's lungs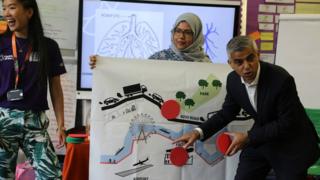 A new £2.5m study to assess the effectiveness of air quality control measures is to check the lungs of 3,000 children.
Researchers will compare the health of two 1,500-strong groups of primary school pupils; one based in central London and the other in Luton.
While the London schools will be within a new Ultra-Low Emission Zone (ULEZ), Luton is subject to a range of anti-congestion measures.
The study will last four years.
Professor Gurch Randhawa from the University of Bedfordshire, who is the Luton lead for the Children's Health in London & Luton (CHILL) study, said both locations are the "ideal comparative sites because they have similar levels of pollution - both have areas which are now at the EU limit, and both are doing different things" to improve air quality.
The central London ULEZ which will come into force next in April will see the most polluting cars, vans and motorbikes as well as lorries and buses pay daily charges.
Luton Borough Council is overseeing a range of measures such as new roads to avoid stationary traffic, cycle loans and walk to work schemes along with an increase in cycle lanes.
Professor Chris Griffiths from Queen Mary University of London, which leads on the study, said while low emission zones can improve air quality, "we don't know whether they benefit health".
This study, he added, will show whether they "should be implemented in towns and cities in the UK and globally".
As well as monitoring the air pollution to which each child has been exposed over the four years, the study will measure the size and function of their lungs by blowing into a machine called a spirometer.
With the family's permission, the team will also check children's health records to find out how often they have had respiratory infections, visited a GP or A&E, or been admitted to hospital for chest problems.