Trains steam ahead on Pennines heritage line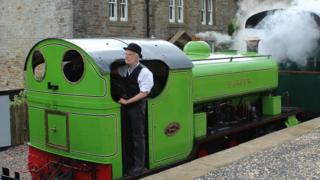 Trains have returned to a section of England's highest railway line for the first time in more than 40 years.
South Tynedale Railway, a narrow gauge line in the Pennines, is built on the track bed of the Alston Line which closed in 1976.
Operated by a preservation society, it runs steam trains between Alston in Cumbria and Lintley in Northumberland.
In what has been described as a "milestone" it now runs to Slaggyford, further up the Tyne Valley.
Richard Graham, chair of the South Tynedale Railway Preservation Society, said: "Opening the extension to Slaggyford is the first step towards fulfilling the aim of recreating a community railway linking Alston Moor, South Tynedale and the wider North Pennines Area of Outstanding Natural Beauty with the national railway network at Haltwhistle.
"I would like to thank the team of staff and volunteers who have worked really hard, overcoming numerous obstacles, to help us reach this milestone."